MLB: Preston Claiborne sees New York Yankees to victory
A review of Wednesday's MLB action as Preston Claiborne had a winning debut for the New York Yankees.
Last Updated: 23/05/14 7:28am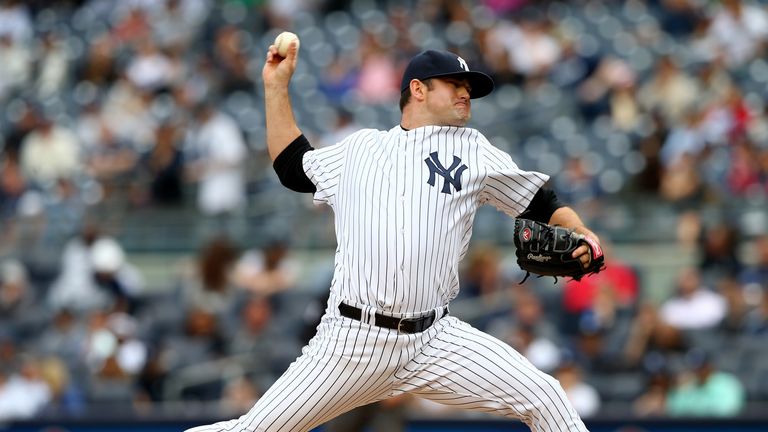 The Yankees pitcher made his first MLB plate appearance in the 13th inning at Wrigley Field and his textbook bunt allowed Brendan Ryan to score on a wild pitch.
John Ryan Murphy added an RBI single and the Yankees' rally was complete.
Right-hander Kyle Kendrick allowed four runs and threw 49 pitches in the eighth inning before the Philadelphia Phillies suffered a humbling 14-5 loss to the Miami Marlins in Florida.
The Kansas City Royals knocked Chicago White Sox starter Jose Quintana out of the game to charge a pair of runs in their 3-1 win at Kauffman Stadium and the Oakland Athletics beat the Tampa Bay Rays 3-2 through a fourth-inning solo home-run from Brandon Moss.
The A's last secured a one-hit win back in 1913, but, thanks largely to two defensive errors from the Rays, Moss was able to secure his side a fifth straight win and an 11th from their last 12 games.
Edwin Encarnacion homered twice for the second consecutive game as the Toronto Blue Jays won for the seventh time in nine attempts by edging the Boston Red Sox 6-4 at Fenway Park.
Error
A throwing error by Chris Owings with bases loaded in the 12th innings allowed Matt Holliday to boost the St Louis Cardinals towards a 3-2 walk-off win over the Arizona Diamondbacks.
Chone Figgins scored the decisive run as the Los Angeles Dodgers got past the New York Mets 4-3.
There were solo home runs from Adrian Gonzalez, Yasiel Puig and Hanley Ramirez while Dodgers pitcher Ryu Hyun-jin returned from a month-long injury lay-off.
Detroit Tigers pitcher Max Scherzer gave up six runs in the first two innings and the Cleveland Indians duly capitalised to secure an 11-10 victory at Progressive Field.
Elsewhere, the Cincinnati Reds beat the Washington Nationals 2-1, while the Minnesota Twins downed the San Diego Padres 2-0 and the Los Angeles Angels claimed a 2-1 home win over the Houston Astros.
The San Francisco Giants trumped the Colorado Rockies 5-1, the Milwaukee Brewers hammered the Atlanta Braves 6-1 and the Texas Rangers squeezed past the Seattle Mariners to win 4-3.
In the final game, Tony Sanchez broke a tie with the Baltimore Orioles with his single in the seventh inning to earn the Pittsburgh Pirates an exhausting 9-8 win at PNC Park.