European Gymnastics Championships: Silver for Great Britain men's team
Great Britain's men were unable to defend their European team gymnastics title as they finished second behind Russia.
Last Updated: 24/05/14 6:20pm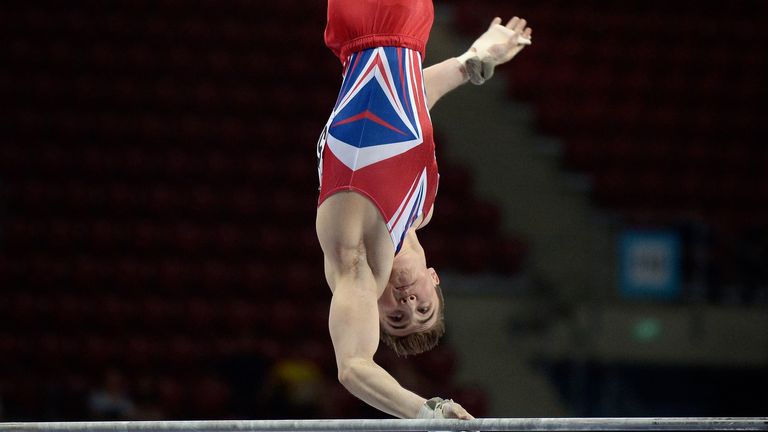 Sky Sports Scholar Sam Oldham, Dan Keatings, Kristian Thomas, Max Whitlock and Dan Purvis finished with a total of 265.953 points to finish behind new champions Russia (267.959) while Ukraine claimed bronze.
This year was the first chance Britain had to defend the team title they won in Montpellier in 2012, as last year's competition only consisted of individual elements.
Whitlock produced the standout moment of the competition ahead of individual apparatus finals after he scored a hugely impressive 16.200 on the pommel horse with a highly difficult routine.
The British team began on rings and made a few costly errors which ultimately derailed their bid to retain their title.
Whitlock was unable to control his landing and stumbled backwards for a score of 13.666 while Thomas did not stick his landing on vault to score 13.966.
Brilliant
Keatings topped the scoring on parallel bars with 15.200 while Oldham and Thomas both impressed on the high bar before Whitlock produced a brillaint 15.700 on floor to cap a strong piece for the team.
The final rotation saw GB move onto the pommel horse, with Keatings scoring 15.008 and Whitlock taking the performance to the next level by going up into handstand midway through his routine for a huge total.
Following the medal success, Thomas admitted the British team had given themselves an uphill battle to succeed.
"We left ourselves a bit too much to do with a few early mistakes but the character we showed was fantastic," the Wolverhampton gymnast said.
"We are a very tight group and we all worked hard for each other and are really happy to have fought so hard and won the silver."
Oldham added: "This performance just shows what a great team we are, we win as a team and we fight as a team. It takes a lot of character to do what we did today and I'm really proud of all the boys."
The silver medal continues a fine week for the men's team who claimed junior team gold and junior all-around gold and bronze ahead of the apparatus finals on Sunday.