MLB: Mark Buehrle collects major league-leading 10th victory for the Toronto Blue Jays
Last Updated: 02/06/14 8:28am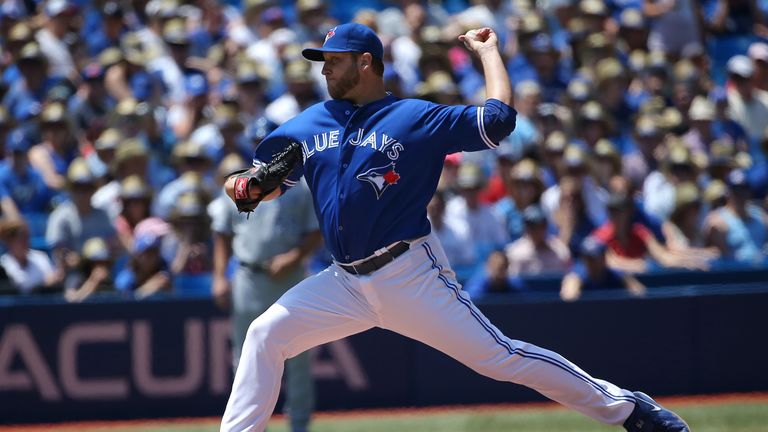 Shutouts were the order of the day as pitchers dominated in Major League Baseball on Sunday.
Mark Buehrle continued to lead the way, collecting his major league-leading 10th victory with eight scoreless frames as the Toronto Blue Jays beat the Kansas City Royals 4-0 with the help of home runs from Dioner Navarro and Edwin Encarnacion.
In Seattle, Roenis Elias threw his first career shutout, allowing just three hits as the Mariners beat the Detroit Tigers 4-0, with Brad Miller going deep.
Kyle Lohse joined in, also allowing just three hits as the Milwaukee Brewers routed the Chicago Cubs 9-0, chasing their ace Jeff Samardzija from the game inside three innings.
But there were more to follow, with Yu Darvish firing eight scoreless frames and striking out 12 as the Texas Rangers beat the Washington Nationals 2-0 and Jon Lester needing only seven innings to rack up 12 Ks as the Boston Red Sox topped the Tampa Bay Rays 4-0.
Completing the set was San Francisco Giants veteran Tim Hudson, who pitched seven shutout innings in an 8-0 win over the St Louis Cardinals.
Complete game
There was no shutout at Yankee Stadium, but Yankee Phil Hughes got one over his old team thanks to a huge ninth-inning rally from the Minnesota Twins, who scored six in the final frame for a 7-2 win after eight innings of two-run ball from Hughes.
That drops the Yankees to three and a half games back on Toronto in the AL East, with Baltimore only a game back on the Bronx Bombers after Manny Machado's first career grand slam led them to a 9-4 win over the Houston Astros.
The Chicago White Sox closed Detroit's AL Central lead to 4.5 games with a 4-1 win over the San Diego Padres as Chris Sale tossed a complete game, allowing only a solo home run to Chase Headley.
In the AL West, the Oakland Athletics completed a three-game sweep of the Los Angeles Angels, 6-3, to go 4.5 games clear.
The Atlanta Braves stand three games clear in the NL East after wrapping up a sweep of the second-placed Miami Marlins, winning 4-2 on Evan Gattis' ninth-inning homer.
The Giants' win gave them a yawning 7.5 game lead over the Los Angeles Dodgers, who lost 5-3 against the Pittsburgh Pirates as Andrew McCutchen hit a homer and two doubles to give the Pirates a first series victory at Dodger Stadium since 2006.
Michael Bourn's first career walk-off homer saw the Cleveland Indians beat the Colorado Rockies 6-4, while homers from Zack Cozart, Todd Frazier, Ryan Ludwick and Chris Heisey saw the Cincinnati Reds top the Arizona Diamondbacks 4-3.