MLB: Fan falls from stand during the Minnesota Twins' win over the Milwaukee Brewers
Last Updated: 04/06/14 7:17am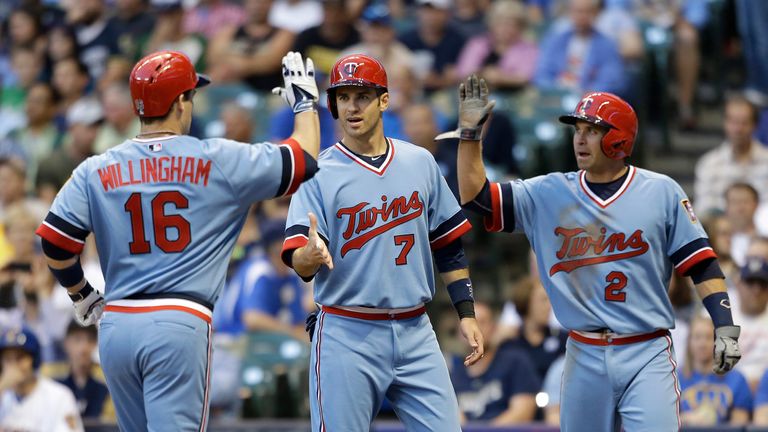 Josh Willingham hit a three-run homer as the Minnesota Twins beat the Milwaukee Brewers 6-4 in a match otherwise notable for a fan being hurt after dramatically falling from the stands.
The unidentified man dropped into the Brewers' bullpen at the start of the eighth inning and the home side's reliever Brandon Kintzler initially feared the worst.
It was reported by CBS that the fan had tumbled from a restaurant area in the stands.
The fan was treated and carried away from view at Miller Park on a stretcher, with Twins manager Ron Gardenhire telling the Major League Baseball website: "We saw them taking him off the field, which wasn't the prettiest thing I've ever seen in my life, but I heard the guy's OK and probably a little beat up. That's a scary moment."
Minnesota were already 6-2 ahead heading into the eighth inning and the delay caused by the incident did not prove telling to the game's outcome.
Kintzler was taken aback when the fall occurred, and said: "We were sitting there and Marcus (Hanel, the Brewers' bullpen catcher) yelled, 'Oh, my gosh!', and you heard the net come flying down. I think the net caught him, and then he just face-planted. He didn't move for a few minutes. I thought he was dead."
Nelson Cruz also hit a three-run homer in a winning cause as the Baltimore Orioles beat his old team the Texas Rangers 8-3, as did Brett Lawrie in the Toronto Blue Jays' 5-3 win against the Detroit Tigers.
Cracked
The Seattle Mariners made it four straight wins as they edged out the Atlanta Braves 7-5, and the Cleveland Indians notched up a fifth victory in a row by seeing off the Boston Red Sox 5-3.
The New York Yankees fell 5-2 in 10 innings at home against the Oakland Athletics, for whom Brandon Moss cracked a pair of home runs, while the Kansas City Royals eked out an 8-7 win over the St Louis Cardinals. Kolten Wong's early grand slam proved a false dawn for St Louis.
Elsewhere, the Cincinnati Reds were 8-3 victors over the San Francisco Giants, the Houston Astros toppled the Los Angeles Angels 7-2, and Jordan Zimmermann pitched eight scoreless innings as the Washington Nationals beat the Philadelphia Phillies 7-0.
The Arizona Diamondbacks earned a 4-2 win over the Colorado Rockies, the Chicago Cubs beat the New York Mets 2-1, while the Miami Marlins shut out the Tampa Bay Rays 1-0.
Home runs from Pedro Alvarez and Neil Walker guided the Pittsburgh Pirates to a 4-1 win over the San Diego Padres, and Jose Abreu and Tyler Flowers both went deep for the Chicago White Sox who prevailed by the same margin against the Los Angeles Dodgers.