MLB: Washington Nationals extend winning run to seven successive matches
Last Updated: 19/08/14 8:43am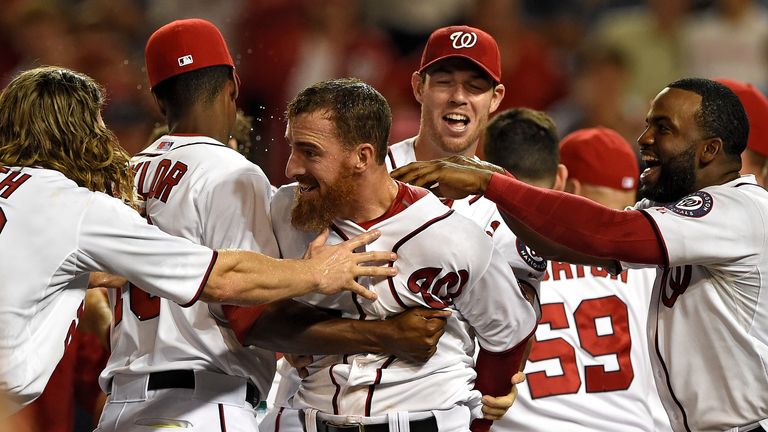 Adam LaRoche's 11th inning home run saw the Washington Nationals extend their winning streak to seven games with a 5-4 victory over the Arizona Diamondbacks.
A wild end to the game saw the Nationals trail in both the seventh and eighth innings before blowing a ninth-inning lead, and then take their third straight walk-off victory.
Their lead over Atlanta in the National League East remains at six games after the Braves enjoyed a 7-3 win over Pittsburgh, with Jayson Heyward and Andrelton Simmons setting the tone with early home runs.
The St Louis Cardinals closed to within 2.5 games of the NL Central lead - held by the Milwaukee Brewers - with a 6-5 win over the Cincinnati Reds, sealed with Jhonny Peralta's walk-off single in the 10th inning.
In New York, a huge two-run blast from rookie phenom Javier Baez lifted the Chicago Cubs to a 4-1 win over the Mets.
Errors
After Oakland's struggles in recent days, the Los Angeles Angels took over the lead in the American League West with a 4-2 win over the Boston Red Sox.
They were helped on their way by two costly Red Sox fielding errors.
The Seattle Mariners are 6.5 games behind the Angels, and tied for the second AL Wild Card spot, after losing 4-1 to the Philadelphia Phillies.
The Baltimore Orioles lead the AL East by 7.5 games after beating the Chicago White Sox 8-2.
Nick Markakis robbed Connor Gillaspie of an early home run with a leaping grab, and then clubbed a two-run shot of his own in a five-run eighth for Baltimore.
In the AL Central, the Kansas City Royals lead Detroit by two games after a 6-4 win over the Minnesota Twins, with Erik Kratz hitting two solo shots.