National Badminton League: Squads and fixtures announced for first season
Last Updated: 05/09/14 11:27am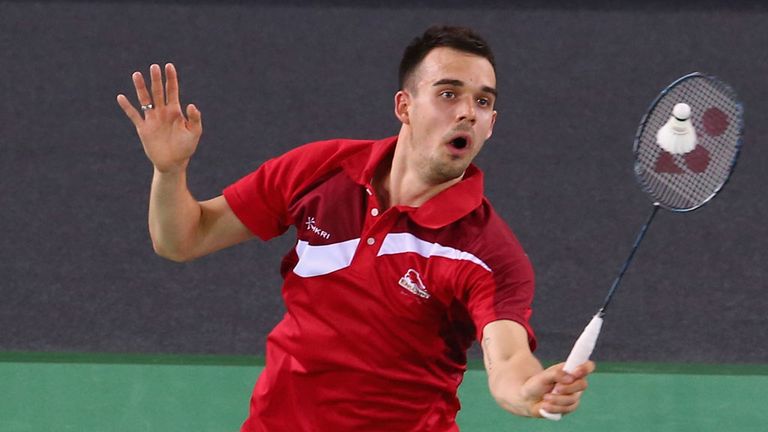 Excitement is building for the start of the new National Badminton League after the announcement of squads and fixtures.
The UK's first ever national league will be shown live on Sky Sports from October with the country's leading players taking part.
The first season will see teams from Birmingham, Derby, Loughborough, Milton Keynes, Nottingham and Surrey battle it out to be crowned champions. Tickets for all fixtures are available from Sky Tickets, the sole online ticketing provider for the NBL 
All GB and England programme players were signed at the player auction including Commonwealth Games medal-winning players Chris Adcock (Nottingham), Chris Langridge (Surrey Smashers) and Lauren Smith Loughborough Sport).
The NBL's confirmed scoring system will see matches being played in a 'first to nine points' format. There are also a number of dynamic new scoring features, including a 'PowerPlay' point, shorter breaks between games, and in-play substitutions.
Nathan Robertson, Olympic Silver medallist and Badminton England's ambassador for the NBL, said: "It's excellent news that the new scoring system and squads for the NBL have been confirmed. The new rules really will make games faster than ever and more thrilling for viewers, and as a result the matches will be much more finely balanced.
BADMINTON TICKETS
Tickets for all fixtures are available from Sky Tickets, the sole online ticketing provider for the NBL Buy your tickets now
"Badminton gained lots of new fans at the Commonwealth Games in Glasgow and the NBL is certain to do the same when the action starts in October."
The NBL kicks off on Monday October 6 with monthly matchnights through to April 2015. This will then be followed by a one day knockout competition in June 2015 featuring the top four teams from the NBL season.
MK Badminton entertain Surrey Smashers live on Sky Sports on the opening night while Team Derby make the short journey to face the Birmingham Lions at the NIA.
FIXTURE LIST
06 October 2014: MK Badminton v Surrey Smashers; Birmingham Lions v Team Derby
03 November 2014: Loughborough Sport v Team Derby; Nottingham v MK Badminton
01 December 2014: Birmingham Lions v Nottingham; Surrey Smashers v Loughborough Sports.
26 January 2015: Nottingham v Loughborough Sport; Surrey Smashers v Team Derby; MK Badminton v Birmingham Lions
23 March 2015: Team Derby v MK Badminton; Nottingham v Surrey Smashers; Birmingham Lions v Loughborough Sport
27 April 2016: Surrey Smashers v Birmingham Lions; Team Derby v Nottingham; Loughborough Sport v MK Badminton