Dolph Ziggler helps John Cena beat Alberto Del Rio on WWE Raw
John Cena beat Alberto Del Rio in a Champion versus Champion match on Raw - thanks to a little help...
Last Updated: 03/07/13 4:27pm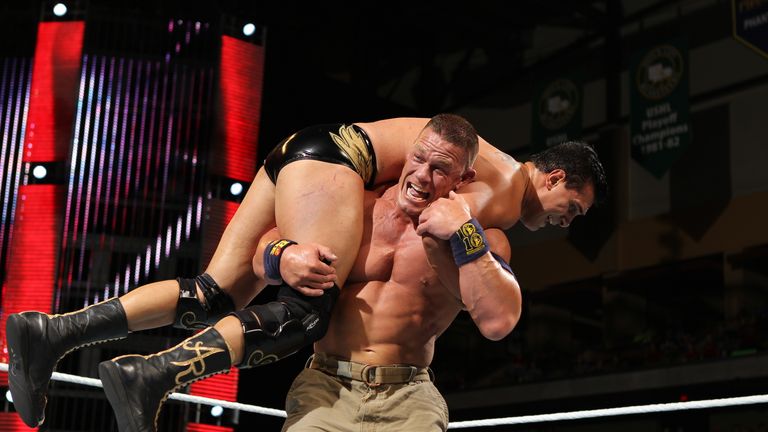 WWE Titlist Cena capitalised on a distraction from Del Rio's nemesis, Dolph Ziggler, to level the World Heavyweight Champion with an Attitude Adjustment and record the pinfall at the Tyson Events Center in Sioux City, Iowa.
However, The Cenation Leader had to be on his guard after the clash when The World's Strongest Man, Mark Henry - the grappler he will put his title on the line against at Money in the Bank on Sunday, July 14 - teased an attack.
Elsewhere, six of the seven combatants in the Money in the Bank All-Stars bout - Randy Orton, Sheamus, Christian, Daniel Bryan, Kane and CM Punk - explained why they would scale the ladder and capture the briefcase containing a WWE Championship contract on Sunday week.
But tensions boiled over, resulting in Orton hitting Kane with an RKO and, after Bryan had made an appeal to Raw's Managing Supervisor, Vickie Guerrero, the Big Red Monster battling The Viper.
Irate
The wildcard in the match, however, was special guest referee Bryan and his quick count allowed Kane to defeat Orton following a big boot to the skull - though it did lead to an irate Orton dropping the submission specialist with an RKO.
Punk, meanwhile, teamed - reluctantly - with Intercontinental Champion Curtis Axel to conquer The Prime Time Players; The Shield returned to winning ways by besting Christian and The Usos; and Ziggler vanquished Jinder Mahal.
Ryback, however, lost to The Miz after demanding his match be stopped to prevent further damage to his injured leg - a turn of events that irked Chris Jericho, who emerged from the commentary booth to crack the Human Wrecking Ball with a Codebreaker.
Plus, Fandango danced away from a contest with Sheamus; Kaitlyn prevailed in a fight with Alicia Fox, before she was once again mocked by Divas Champion AJ Lee; and Antonio Cesaro clocked Cody Rhodes with the Neutraliser to secure a win.
Don't miss next week's episode of Raw - 1am, Monday, Sky Sports 3 HD (Tues) - as Vickie Guerrero receives a job evaluation and the WWE Superstars gear up for Money in the Bank.