WWE Raw: Kane entered into WWE World Heavyweight Title Money in the Bank Match
Big Red Monster runs amok following Monday's main event
Last Updated: 25/06/14 2:37pm
A spectacular seven became an excellent eight on Raw after Kane was added to the WWE World Heavyweight Title Ladder Match at Money in the Bank.
WWE MONEY IN THE BANK
1am, Sunday (Mon)
Live on Sky Sports Box Office
The Big Red Monster will compete alongside John Cena, Randy Orton, Cesaro, Sheamus, Bray Wyatt, Alberto Del Rio and Roman Reigns in the battle for sports entertainment's ultimate prize, live on Sky Sports Box Office on Sunday, June 29.
And he wasted little time in laying his rivals to waste on Monday night, pouncing after Cena, Sheamus and Reigns had pummelled Orton, Cesaro, Wyatt and Del Rio in a four-on-three handicap bout.
However, Kane saw his dominance quelled via a show-closing spear from Reigns, the man with perhaps the most momentum among the Ladder Match octet.
A second Money in the Bank tussle will be contested in Boston, with Seth Rollins, Bad News Barrett, Dolph Ziggler, Jack Swagger, Kofi Kingston, Rob Van Dam and Dean Ambrose fighting for a WWE World Heavyweight Title contract.
Ambrose ambushed Rollins during his dust-up with RVD on Raw, before declaring that he would "screw up the entire pay-per-view" if he was not placed into the Money in the Bank Ladder Match.
At that point, it seemed Rollins would do all he could to ensure Ambrose's wish was not granted.
But The Architect ultimately convinced WWE Chief Operating Officer Triple H to give The Lunatic Fringe what he wanted so that he could pulverise him during the multi-man melee.
Physicality
More Money in the Bank rivals collided in Washington, DC, too, with Barrett successfully defending the Intercontinental Championship against Ziggler and Swagger forcing Kingston to tap out.
This month's pay-per-view in Massachusetts will also play host to a WWE Tag Team Title tussle between current champions The Usos and challengers Luke Harper and Erick Rowan – but physicality began early.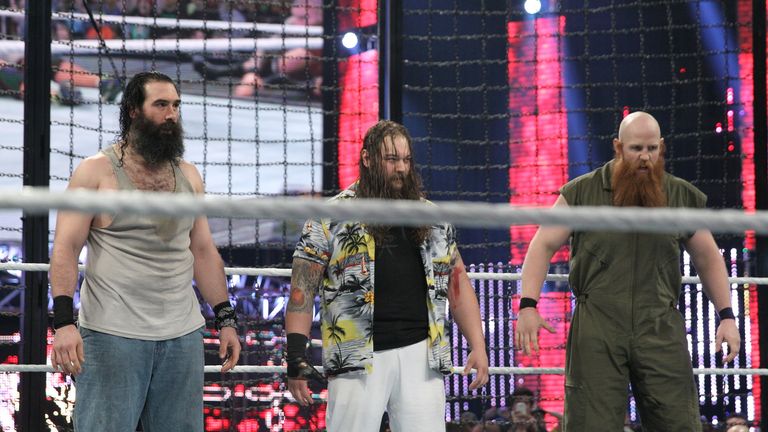 Harper bested Jimmy Uso in Raw's opening clash and while Jey Uso evened up the score by overcoming Rowan moments later, the Samoan strap holders were put down by a post-match attack from their foes.
Elsewhere, Naomi vanquished Alicia Fox in Divas action, while Bo Dallas took his winning streak to 9-0 by outwitting Titus O'Neil, and Big E crushed an Abraham Lincoln-garbed Damien Sandow.
But Raw also waved goodbye to Vickie Guerrero, with the Smackdown General Manager relieved of her duties after losing a match with a difference to Stephanie McMahon.
The rules of the pair's 'slop' encounter stipulated that whoever pushed their opponent into a pool of dirt would be declared the victor, and McMahon prevailed when Guerrero was distracted by Layla, Rosa Mendes and Fox.
That result meant Guerrero – who irked The Authority last week when she handed them tampered-with coffee – was given her marching orders, but she departed with a smile on her after tossing McMahon into the sludge.
Money in the Bank booking details
WWE Money in the Bank will be shown on Sky Sports Box Office (channel 743) and Sky Sports HD Box Office (channel 752) at 1am on Sunday, June 29 (Monday morning).
WWE Money in the Bank will be repeated on Sky Sports Box Office (channel 743) BUT NOT Sky Sports HD Box Office (channel 752) between 9am, Monday, June 30 and 9pm, Saturday, July 5.
Repeats showing will last for three hours, with the final showing BEGINNING at 9pm on Saturday, July 5.
The event is priced at £14.95 for UK customers, €21.95 for customers in the Republic of Ireland.
Viewers can call 08442 410 888 from Tuesday, June 17 to book WWE Money in the Bank. (There may be an additional charge for telephone bookings).
You can book WWE Money in the Bank online from Tuesday, June 17  by visiting this link: https://my.sky.com/orderboxoffice/
You will be able to order WWE Money in the Bank at a later date by pressing the Box Office button on your remote. Select 'sports & events' and follow the on-screen instructions.
Cable customers should contact their local cable operator.