WWE Battleground: John Cena retains WWE World Heavyweight Title in Fatal Four-Way
Massachusetts man prevails despite Roman Reigns' onslaught
Last Updated: 21/07/14 1:59pm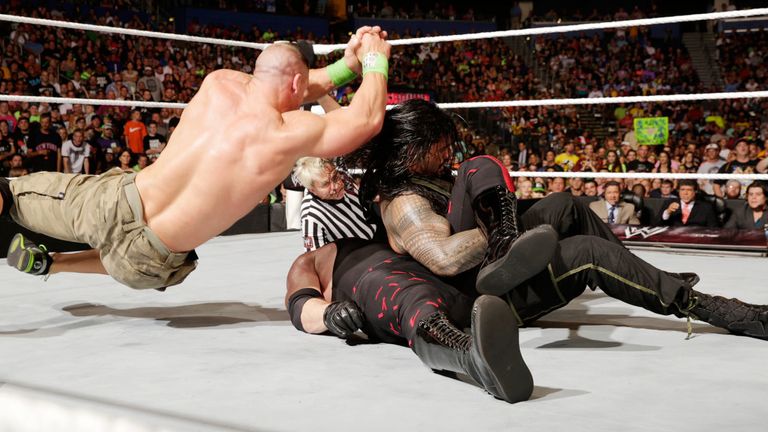 John Cena defied the odds at Battleground to win the Fatal Four-Way main event and retain the WWE World Heavyweight Title.
The Cenation Leader headed into his clash with Roman Reigns, Randy Orton and Kane inside Florida's Tampa Bay Times Forum knowing that he did not have to be pinned or submitted to lose.
But he dealt with that pressure during a memorable encounter and secured victory when he hit Orton with an Attitude Adjustment onto a prone Kane and then pinned The Viper.
CLICK HERE TO ORDER A REPEAT OF WWE BATTLEGROUND
WWE BATTLEGROUND
Repeated until 9pm, Saturday
Sky Sports Box Office
Orton ended the bout on his back, then, but he began it as the favourite, with Authority ally Kane regularly taking out Cena and Reigns and giving the Apex Predator opportunities to triumph.
However, the 12-time world champion could not capitalise and his union with The Big Red Monster was dramatically severed when the latter attempted to win the contest for himself.
Orton went berserk after Kane tried to pin Reigns and poked The Demon in the chest, a move that earned The Viper a crunching uppercut and left him knowing he was now on his own.
The match for sports entertainment's ultimate prize continued to twist and turn but eventually the pumped-up fans in The Sunshine State got their wish: Cena and Reigns standing toe-to-toe.
Whisker
Cena has been at the zenith of WWE for over a decade but he could not contain the former Shield powerhouse and was promptly hit with a Samoan Drop, a Superman punch and a Spear.
Reigns maintained his assault, cracking Cena, Orton and Kane with dropkicks, Spearing The Apex Predator through the barricade and coming within a whisker of collecting a three-count on The Champ.
However, The Juggernaut's penchant for clattering everybody came back to haunt him – and, ultimately, profit Cena – during a pulsating end to the title dustup.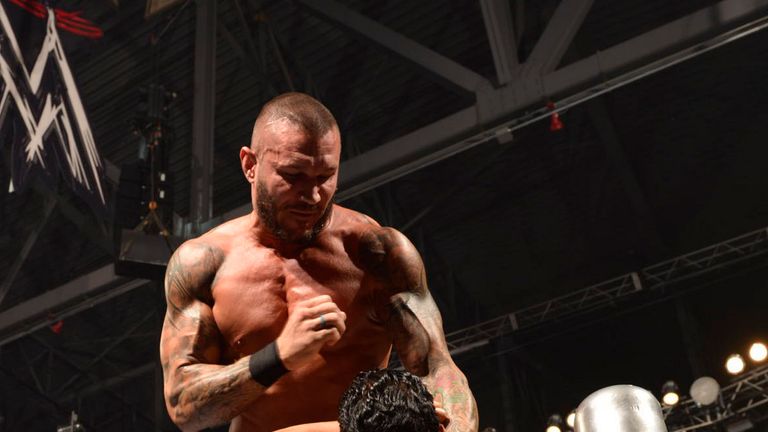 Reigns' umpteenth Spear on Kane left him unable to detect an incoming Orton and he was swiftly felled by the St Louis star's RKO.
But before Orton had time to gather his bearings, Cena pummelled him with his finishing move and remained holding gold.
With Mr Money in the Bank, Seth Rollins, no longer in the arena in the wake of his battle with Dean Ambrose, there was no danger of Cena having his belt pinched.
But with Paul Heyman Tweeting '"In case you're wondering... Heading to pick up #PlanC ... Just in case," the man from Massachusetts should really be watching his back…
Missed WWE Battleground? Then click here to order a Sky Sports Box Office repeat.
BATTLEGROUND BOOKING DETAILS
WWE Battleground will be repeated on Sky Sports Box Office (channel 743) BUT NOT Sky Sports HD Box Office (channel 752) until 9pm on Saturday, July 26.
Repeats showing will last for three hours, with the final showing BEGINNING at 9pm on Saturday, July 26.
The event is priced at £14.95 for UK customers, €21.95 for customers in the Republic of Ireland.
Viewers can call 08442 410 888 to book WWE Battleground. (There may be an additional charge for telephone bookings).
You can book WWE Battleground online by visiting this link: https://my.sky.com/orderboxoffice/
You can also order WWE Battleground by pressing the Box Office button on your remote. Select 'sports & events' and follow the on-screen instructions.
Cable customers should contact their local cable operator.