Graeme Swann is a miss, but Paul Collingwood has faith in Monty Panesar
Graeme Swann's elbow injury concerns Paul Collingwood, but he expects Monty Panesar to shine.
Last Updated: 06/03/13 10:22am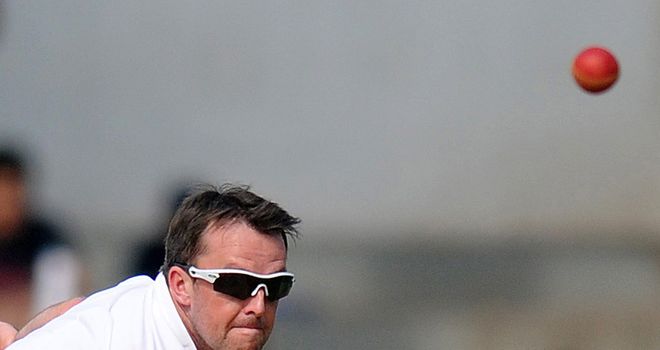 The Nottinghamshire spinner was left out of England's starting XI for the first Test in Dunedin and it was later announced that the 33-year-old will miss the three-Test series completely and fly to the US for surgery on his elbow.
Whilst former England all-rounder Collingwood admits Swann's absence from the rest of the New Zealand tour is a blow, he told Sky Sports HD the greater concern is whether he will be back to full fitness in time for this summer's Ashes series.
"It's shocking news," he said.
"We were all expecting him to be in the team as normal for the first Test but the management team have kept this under wraps and it has quickly escalated to him needing an operation.
"He's been a huge player for England and his character and what he brings behind the scenes with his humour and energy levels mean he's a massive miss.
"Any injury is bad news but to have surgery on an injury is not good. I hope he has a good recovery and he comes back to his best. That's the crucial thing: that he comes back to how he's been spinning the ball in the last few years.
"Do you come back as the same bowler? Can you get the same amount of revs and pace? All these doubts will go through Swann's mind as well."
Chance
However, Collingwood has no doubt Sussex spinner Panesar can seize his first-team opportunity after impressing in tandem with Swann during England's series win in India over the winter, taking 17 wickets in the three Tests he featured in.
Former England T20 skipper Collingwood was in India for that Test series as a pundit and said the 30-year-old showed his strengths as an attacking bowler, but also his ability to stem the flow of runs from one end.
"Panesar had a great few months in India," he said.
"He was great to watch out there. The Indians are the best players of spin in the world and look at the damage he did out there.
"He had that bounce back, both in his action and when he was celebrating his wickets. He's certainly improved a lot since his first stint in international cricket.
"The Indian wickets suited him perfectly and he got a lot of turn out there, where they prepared dry wickets because they didn't think the English batsmen could play spin.
"He's not going to get as much turn in New Zealand but he's very economical when he gets into that role of bowling nice and straight. He'll do some damage to the right handers, too, because a lot of their batsmen get out to left-arm spin, lbw especially."
Conditions
Panesar will have to wait for his chance to play his part, though, as England were put into bat by New Zealand and, after day one was washed out, will look to build a good total on day two.
Despite the poor weather conditions on the opening day, the sun is expected to shine on day two - and former England captain Alec Stewart says the delay has actually played into the tourists' hands.
"Alastair Cook intimated at the toss he would have batted first so it could actually fall England's way," he said.
"The last thing they would have wanted was to go out there for an hour or so [in the evening session of day one] having sat in the dressing room the whole time, with New Zealand coming out all guns blazing. They could have lost two or three wickets.
"But tomorrow is a new day and, if the sun is shining, let's see how England go."