EHL: Devils douse Blaze
Cardiff defeated Coventry 4-3 in their final Elite League game of the season.
Last Updated: 26/03/12 8:13am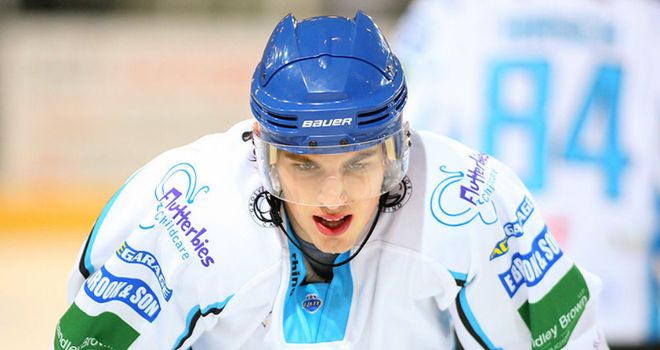 Cardiff defeated Coventry 4-3 in their final Elite League game of the season on Sunday.
The game was a dress rehearsal for the start of the play-offs next weekend when the two teams meet again home and away.
It was a seventh consecutive win for the Devils, snapping a five-match streak for Blaze who were unable to come back from an early 3-1 deficit.
Skipper Stuart Macrae and Jeff Pierce netted inside the first six minutes for the Devils and although Shea Guthrie quickly pulled one back on a penalty call Scott Dobben extended the lead again shortly before the break on a 5 on 3.
Guthrie pulled it back to one once more but Phil Hill netted in the 36th minute to make it 4-2 for the hosts. Dustin Wood gave Coventry renewed hope early in the final session but there were no further goals as Cardiff claimed bragging rights ahead of the play-offs.
Braehead scored a goal three seconds from the buzzer to gain a confidence-boosting 5-4 victory at Sheffield heading into the play-offs.
Clan will take on Nottingham next weekend in good spirits after rallying in the final period to come from behind despite resting both player/coach Drew Bannister and skipper Jordan Krestanovich.
Steelers were on the scoresheet as early as the 25th second when Jeff Legue netted, but Clan tied the period when Jade Galbraith scored on a powerplay.
The hosts moved into a 3-1 lead with captain Jonathan Phillips and Matt Stephenson scoring before the half hour mark but Clan kept battling away and Adam Walker netted on 34.21 with his side shorthanded.
Legue bagged his second to give the hosts a 4-2 lead but the Scots dominated the last 15 minutes, Mike Bayrock and Ryan Campbell on a powerplay levelling the scores.
The match looked destined for overtime when Mike Wirll stepped up to slot past John DeCaro in the Steelers net.
Hull go into a difficult play-off series against Steelers on the back of a 6-2 victory over Dundee.
Jereme Tendler bagged a hat-trick with two assists against the Stars, who had secured the final play-off spot the previous evening.
A goalless opening period was followed by the teams sharing four in the second, Stars leading through Chris Zarb before Tendler equalised shorthanded.
Jeff Hutchins put the visitors back int front but Jason Silverthorn made it 2-2 five minutes before the interval.
However it was all Stingrays in the third, Dominic Osman getting the go-ahead goal before Tendler netted twice in the space of a minute, Silverthorn completing the scoring with his second in a game that saw 66 penalty minutes.
Edinburgh ended their season with an 11-2 thrashing of Fife Flyers in which there were an astonishing 309 penalty minutes and nine ejections, including Flyers' bench coach and trainer.
With neither side making the play-offs there seemed little to play for other than local bragging rights, but that proved not to be the case.
Capitals were 3-0 up in no time through Bari McKenzie (twice) and Peter Holecko finding the net. After the game settled down there was another goal blitz late in the session - Danny Stewart scoring twice for Fife before Richard Hartmann made it 4-2 at the break.
But Capitals took control in the second period, a powerplay goal by Marcis Zembergs at 25.49, Tomas Valecko at 27.33 and Sean Menton at 30.31 had Capitals 7-2 in front before Chris Wands pulled one back at 30.17.
Then followed a fight involving Steven McAlpine of Flyers and Jan Safar of Capitals joined by Josef Sladok of the home side (game for third man in). At the same time both Steven Lynch the flyers bench coach and the visitor's trainer were assessed game misconducts.
Further home goals followed from Menton at 32.49 and Rene Jarolin at 36.39 before flashpoint number two took place with 12 seconds of the period left.
Danny Stewart of Flyers was assessed a 5 plus game for fighting in addition to a match penalty for bringing the game into disrepute, with Valecko of Capitals receiving a 5 plus game for high sticks.
From the opening face-off of the third period they were dancing once more with Denis Kadic of Flyers copping a fighting call along with Capitals Martin Petrina, with Jarolin joining them on a 5 plus game for fighting.
McKenzie completed his hat-trick as Capitals went 10-3 ahead before we had Thomas Muir of Flyers and Safer of Capitals on a 5 plus games for fighting.
Zembergs scored to make it 11-3 Capitals and finally at 55.14 Kyle Horne of Flyers and Holecko of Capitals picked up fighting majors to end quite a night in Edinburgh.