Stanley Cup: Los Angeles Kings move 2-0 up on New York Rangers thanks to Dustin Brown
Last Updated: 08/06/14 9:39am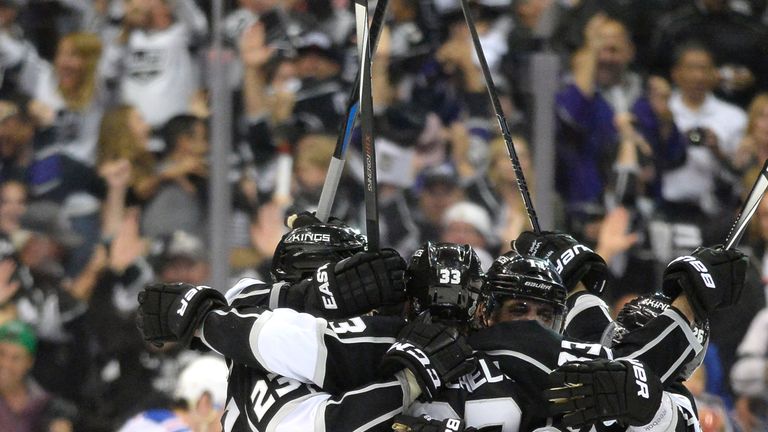 The Los Angeles Kings doubled their lead over the New York Rangers in the Stanley Cup final, coming from behind again to secure a 5-4 overtime win in the second game of the series.
The Kings had not led at any point until captain Dustin Brown deflected home a long-range shot from Willie Mitchell to secure a stunning victory at Staples Center in Los Angeles.
Just as in the first game, the Rangers had been the dominant team for so long, enjoying leads of 2-0, 3-1 and, heading into the third period, 4-2, before being reeled back in.
With tension and excitement soaring, there was no breakthrough in overtime until 10 minutes and 26 seconds into the second extra period, when Brown struck the decisive blow.
Game three of the best-of-seven series takes place at Madison Square Garden on Monday night.
The Rangers had gone ahead through Ryan McDonagh before Mats Zuccarello stretched their advantage to two early in the second period
Two-goal cushion
Jarret Stoll put the Kings on the scoreboard but Martin St Louis restored the two-goal cushion.
Mitchell responded for the Kings only for Derick Brassard to nudge the Rangers 4-2 in front seconds later, leaving the hosts with plenty of work to do going into the final 20 minutes.
However efforts from Dwight King and Marian Gaborik drew them level and they duly completed the comeback thanks to skipper Brown.
Los Angeles had not been in front at any point in game one either until Justin Williams struck an overtime winner.
"I didn't know where it was going but if you can get a stick on it you try to," Brown said. "It's a big goal.
"It's hard to explain how we've been able to come back but we're well aware we need to find a way to play with a lead. We need to find ways to make it easier on ourselves by getting the first goal."