Talk of Sky Sports
See what has got the Sky Sports experts' tongues wagging over a busy seven days in the world of sport.
Last Updated: 10/08/12 2:25pm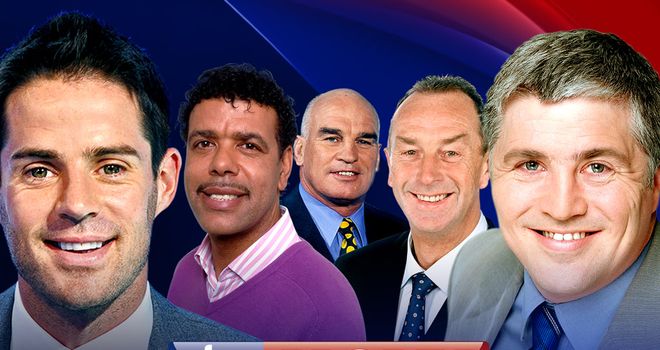 For the best in up-to-the-minute sports analysis, look no further than skysports.com, your online home for expert opinion.
Whatever your sport, our team of pundits, columnists and bloggers are here every week to bring you the sharpest views and the shrewdest comments on the latest developments.
Some of the most respected names in the business, including Bob Willis, Phil Clarke, Jamie Redknapp and Stuart Barnes deliver their views with their expert columns, while we also have blogs from the likes of David Lloyd, Ed Chamberlin and Soccer AM's Tubes.
Here's a snapshot of what the experts have been saying over the last seven days...
"Pietersen's saying the next Test could be his last, but could the management now pre-empt that and tell him he's already played his final game? Forget the hundred. Forget the individual. You've got to treat him as 'Player X' and if someone starts telling you when they want to play and when they don't want to play then it doesn't work."
Bumble believes the ECB has no option but to take a hard-line approach with KP.
Taken from 'A sensible stance'
"It is very difficult for me to say that Pietersen is, or could become, one of the greatest Test batsmen ever because I have not seen every batsmen in the game's history at such close quarters, but he is certainly one of the best batsmen I have witnessed. He makes batting look easy at times and his innings of 149 against South Africa showed what he is capable of when he is in the zone."
KP has nothing left to prove in the Test match arena, says Mikey Holding, but he shouldn't quit just yet.
Taken from 'Go for greatness'
"I still think the system is better than in previous Games where each judge registered each punch with an electronic device and a point was awarded if three of the five believed a shot had been landed. With that method, a lot of the judges did not agree, punches were missed and a lot of fighters boxed defensively, whereas now - with guys given a mark out of 10 for every round - there are more free-flowing bouts."
Glenn McCrory says that the way that Olympic fights are judged has improved.
Taken from 'Bouts of excitement'
"Mayweather still has a few other issues to clear up but now that he is free he needs to get back to life and drop the macho image. He doesn't need all the bodyguards around him and having teamed up with his friend, 50 Cent, to promote his fights maybe they can finally make a deal with Pacquiao - who is scheduled to fight November 10 in Las Vegas. This is the fight everyone wants to see. But will they ever come to an agreement over drug testing to make it a reality?"
Wayne McCullough weighs up Floyd Mayweather Jr's next move after the American's release from jail.
Taken from 'Decision Time'
"Andy took inspiration from the exploits of Mo Farah inside the athletics stadium, but what really won him the match against Federer was his handling of the situation; he coped better with the pressure than a man with 17 Grand Slams. Being a member of the British squad and soaking up the atmosphere definitely played a part."
Barry Cowan explains how Team GB helped to spur Andy Murray to Olympic glory.
Taken from 'Brit rewards'
"It appears to me that we're about to go through a significant change within rugby league. The Watkins Review only looked at the governance of our sport, but it also highlights the need for further discussion about the direction, vision and strategy of the 13-a-side code of rugby. The optimist in me says that we are at the start of an exciting new era for the game."
Phil Clarke explains why he believes rugby league must continue to evolve.
Taken from 'Times a-changin'
"If it's about appealing to the youth audience that the IOC is so eager to engage (though all four women's beach volleyball finalists were in their 30s), then why not urban downhill mountain biking, or parkour? Both would be spectacular and thrilling. It also seems a shame that the glamour of beach volleyball leaves indoor volleyball in the shade."
Richard Moore wonders if beach volleyball deserves the Olympic coverage it gets.
Taken from 'Life's a beach'
"Landaman represents the red-hot Mark Johnston. The four-year-old is bounding up the handicap after wins in his last four starts which has seen him rise 21lbs in the ratings. This is his first foray into group company after he doubled up at Glorious Goodwood and he merits his place in this line up. I'm going to go with Landaman to take the step up from handicap company. If Jet Away wins I'll be very cross with myself for deserting him, so fingers crossed!"
Alex Hammond explains why she's backing Landaman as she previews this weekend's racing.
Taken from 'Land of hope'
"Gollob picked up a nasty knock whilst riding in the Swedish League for Hammarby a couple of months ago now and hasn't shown much form since. Concussion is a strange thing and it can take several weeks for you to be back to full health and perhaps Gollob should have taken a lengthier break from racing."
Fit-again Tomasz Gollob can still snare the Speedway Grand Prix title, says Kelvin Tatum.
Taken from 'Clicking into gear'
"This week Bradford City FC emerged as the latest potential saviour. There is talk of the two sides sharing the city's football ground - but then what happens to Odsal? It's got so much history it would be a terrible shame to see that ground abandoned. Either way it really isn't clear how this collaboration would work."
Bradford Bulls' financial problems continue but their players have responded outstandingly, says Stevo.
Taken from 'Brave Bulls'
Click here to read more of our pundits' opinions.