Capital punishment for Punk
Randy Orton and CM Punk continued their bitter rivalry in front of the TV cameras when RAW emanated from London, England.
By James Coyle
Last Updated: 19/04/11 11:57am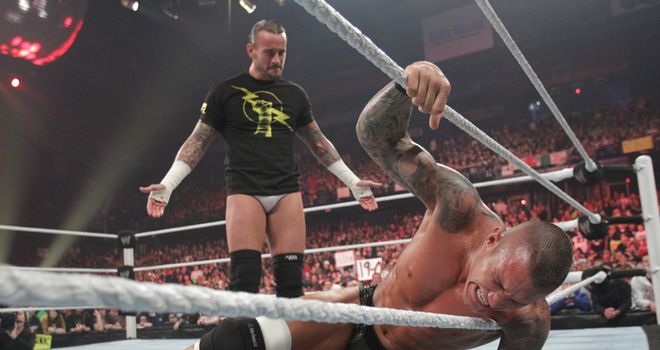 As tensions continue to mount between Randy Orton and CM Punk, the two clashed in front of the TV cameras when RAW emanated from London, England.
In an explosive main event, The Viper and The Second City Saviour traded blows as well as momentum throughout the bout. In the end, Orton turned the tables on his bitter rival and capitalised for the win. Unfortunately for Orton, The New Nexus crashed the celebrations.
Punk's New Nexus disciples surrounded the ring and closed ranks around The Viper. After pummelling Orton and leaving him seemingly unconscious on the canvas, The New Nexus cleared a path for Mason Ryan to deliver the final blow.
CM Punk waved him off, though, intent on punishing Orton himself. As he steamed toward the lifeless body, however, WWE's Apex Predator snapped to life. He levelled Punk with a thunderous RKO before slithering from the ring and leaving The New Nexus stunned.
Celebration
After securing a spot in the Triple Threat Steel Cage Match at Extreme Rules along with WWE Champion The Miz and John Cena, R-Truth came out in London's O2 Arena to celebrate.
He was greeted by John Morrison, however, who unveiled footage from last week's match of the fan favourite drinking water and taking a breather in between gauntlet opponents.
The Shaman of Sexy slammed his former tag team partner for his smoking habit and challenged him for his position in the title match.
Truth accepted - a decision he would later regret when Morrison prevailed with Starship Pain. Afterward, an irate Truth pummelled Morrison outside the ring.
WWE Champion The Miz voiced his opinion about John Morrison replacing R-Truth in his Triple Threat Steel Cage Match at Extreme Rules. During the temper tantrum, WWE's latest sensation, Sin Cara, approached the ring to prepare for his match with Alex Riley.
Soon after, John Cena joined the fray as RAW's anonymous General Manager quickly interrupted and arranged a tag team match pitting Cena & Sin Cara against Miz & Riley.
The leader of the Cenation got the better of his Extreme Rules rival as well as lackey, Alex Riley. Sin Cara then used his acrobatic genius against Riley, who succumbed to the international wonder with a three-count.
WWE 2011 Draft
It's one of the most highly-anticipated nights of the year for WWE fans. Next week, Monday Night Raw hosts the 2011 WWE Draft. Who will leave Monday nights and who will join the RAW roster?
See all the action live and in high definition next Monday Night at 2am on Sky Sports HD3.