Rhodes to glory
Cody Rhodes tells skysports.com why he wants to restore the prestige of the Intercontinental title.
Last Updated: 26/10/11 6:36pm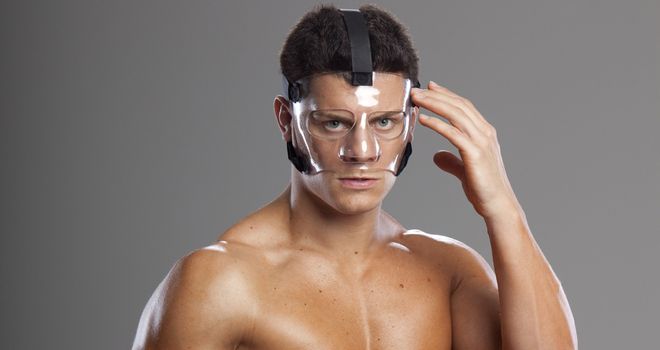 Both dashing and devious, WWE Superstar Cody Rhodes has been relentless in his pursuit of a long-lasting legacy.
The son of WWE Hall of Famer the "American Dream" Dusty Rhodes is determined to make his own mark on sports entertainment and his capture of the Intercontinental Championship has seen the once-revered title become big news once again.
In an exclusive interview with skysports.com, Rhodes explained why the championship must be restored to its rightful place as one of the most coveted in the industry.
He also spoke about his wrestling heroes, the protective mask he has been forced to wear in the ring and the WWE's forthcoming return to the UK.
Plus he let slip which crowds most need to have one of his infamous paper bags placed over their heads...
You've had a lot to say about the Intercontinental title, even bringing back the vintage white belt. Why do you feel that way?
CODY RHODES: I've had the opportunity to have a very open platform on how I feel about the Intercontinental title. I feel about it in the same way that a lot of fans have felt about it and I was glad that I could be honest about it. At one point it was probably the most revered title in the WWE and it was in the hands of some of the most revered Superstars and talents. Without getting too specific, somewhere in the last five or seven years it kind of got lost.That was why I decided to bring back the classic look of the title because there is also a classic feel that comes with it. That's the type of Intercontinental Champion I wanted to be.
Do you feel that the Intercontinental Championship will become a more significant title again?
CODY RHODES: It should say a lot to be Intercontinental Champion. Today it seems like the Money in the Bank Briefcase means something, but I kinda wanted to trump that with something that used to be that way. That's how I feel and it's on a definite upswing.
Who were your favourite Intercontinental title holders in years gone by?
CODY RHODES: My favourite wrestler to ever breathe was Shaun Michaels and I thought he was an excellent Intercontinental Champion, but I'd also have to say The Hitman Bret Hart did a great job with that title. The point anybody should be trying to capture and the high point for the Intercontinental Championship was Wembley Stadium and the sheer number of people watching Bret against Davey Boy Smith. As much as that was a personal issue, it was also about the Intercontinental Championship. Also I can't mention it without mentioning Roddy Piper. It's really the only title he ever held and I felt he should have held so many other titles. He put a great spin on it too.
Speaking of legends, has it been a help or a hindrance having the "legendary" Dusty Rhodes as your father?
CODY RHODES: It's been both. It's no secret that it's easier to get into the sports entertainment world when your father is a fixture there and somebody who did well. But as soon as you walk in the door and say "my last name is Rhodes", as is the case with any of the second or third generation talents who've had to do the same thing, you're immediately expected of something. I tried as hard as I can to get away from appearing like Dusty Rhodes Jr because even though that's great, to me it's just dredging up old memories. I'm all about making new experiences and out of respect for my dad's legacy I try to do everything extremely different.
Your brother Goldust is also a WWE Superstar. Do you think you'll have a rivalry with him at any point in the future?
CODY RHODES: I'd immensely enjoy that opportunity. I'm pretty optimistic and although it sounds strange it would be a great way to get to know my brother. There's a lot of years between us and while we know each other because he's part of my family, we don't know each other that well. I don't think you can learn anything more about each other than being in a ring together. I'm optimistic that might happen.
Since Rey Mysterio 'caved your face in' you have worn a protective mask. Will you ever wrestle without it?
CODY RHODES: It's funny because things in sports entertainment get misconstrued. What we do is entertainment, but what happened with me was a little bit more than that. My nose was legitimately broken, my septum was horribly deviated, but it was the most lucky break I guess I ever had. I'm definitely not afraid to take it off and I've enjoyed the few times I've gotten away with taking it off and I can see it being around for a while, but not so much a major fixture of myself. I'm trying to make it like Triple H; he's got his sledgehammer and I've got my mask.
One of the other things we've seen you do in recent months is to put paper bags over the heads of people in the crowd. Where did that idea come from?
CODY RHODES: We started the bags in the best spot on earth - London - because the UK fans are a little more open and susceptible. It kind of backfired because we passed everyone the paper bags and people still smiled and put them on! That was probably the best place to start it because so many people put them on! There's been a lot of similar things, I don't think anyone's put bags on people's heads before, but I was a big fan of the Million Dollar Man and he used to shove dirty money into people's mouths. It's a small device to get under people's skin, but, if anything, it really backfired because I look around at the live events and PPV's at people in bags. I can't complain that they put them on.
Where in the world do you think people are most in need of having their faces covered with bags? Where are the best looking and worst looking crowds?
CODY RHODES: The best-looking crowds is a tough one, but consistently the worst looking crowd that I ever see - and if I tell them that I'm not lying and trying to get under their skin, I'm just telling the truth - is Vienna, Austria. I got up close and personal at a signing with them and my God...
Have you got any personal grooming tips for them?
CODY RHODES: I once had a great time telling Manchester about oral hygiene, but if I had to say anything to the people of Vienna I'd probably talk to them about skincare. I'd introduce them to a bar of soap. It's not that foreign of an entity!
The WWE is coming to the UK in November and both RAW and SmackDown will be broadcast from Liverpool. Are you looking forward to that?
CODY RHODES: Liverpool is one of my favourite places, so the idea of doing TV from there is exciting. London is a bit much for me; it reminds me of all the major cities and it's so populated and intense. I don't come to the UK very often, but to learn about the culture and the food there, Liverpool is the kind of place where you can go out in the city and have a good time.
And finally, let's look ahead to the biggest event in sports entertainment. You won your WrestleMania match this year, but who would be your dream WrestleMania opponent?
CODY RHODES: I have two. One that is currently working in the WWE and one that would be a dream opponent. Right now I'd love to defend the Intercontinental Championship against Sheamus because I think that's two WWE Superstars who are definitely heading towards the prime of their careers; they're not even in it yet and I'd love the fans to get a legitimate Intercontinental Championship and a legitimate defence at WrestleMania. That's where it belongs. And even though he's not around, you never say never, I'd love to kick Chris Jericho's ass, I really would. He's a Twitter complainer, but he was also an excellent Intercontinental Champion.