Rock gets Punked
CM Punk stunned the WWE Universe by attacking The Rock on Raw's action-packed 1,000th episode.
Last Updated: 24/07/12 12:18pm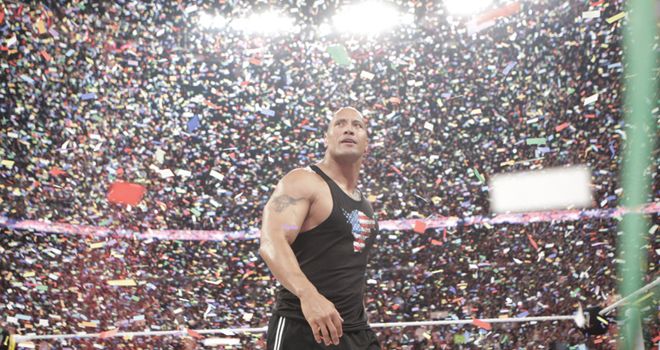 The landmark 1,000th edition of WWE Raw ended with a bang when WWE Champion CM Punk levelled The Rock with his patented GTS finishing manoeuvre.
The altercation occurred after Punk's WWE title match with Money in the Bank victor John Cena, which the latter won by disqualification after he was mercilessly attacked by the Big Show.
The Rock rushed to the ring to aid Cena but was swiftly met by Punk, whose actions towards the Brahma Bull left the WWE Universe shocked.
Punk's assault was perhaps in reaction to The Rock's claim earlier in the evening that he would face whichever Superstar is the WWE Champion at the 2013 Royal Rumble - and a potential Rock-Punk clash now has added spice.
The Great One was not the only big name returnee on a milestone edition of Raw, as Triple H was joined by Shawn Michaels, X-Pac, Road Dogg and Billy Gunn to reform the anarchic D-Generation X at the start of the show.
The Game, however, became all together more serious later on when his challenge to Brock Lesnar for a match at SummerSlam was accepted - and the powerful grapplers' brawl soon after was a tantalising hors d'oeuvre ahead of next month's pay-per-view meeting.
Permanent
Elsewhere, The Undertaker appeared for the first time since WrestleMania to help his brother Kane administer pain to Jinder Mahal, Tyler Reks, Curt Hawkins, Hunico, Camacho and Drew McIntyre, while Diva Lita made her presence felt, beating Heath Slater after a little help from APA members JBL and Ron Simmons.
Daniel Bryan had intended to end Monday night in wedlock but was left at the alter by his bride-to-be AJ, who was later announced as the new permanent RAW general manager by Vince McMahon.
The former World Heavyweight Champion's night got even worse when he fell victim to a Rock Bottom before he was verbally blasted and challenged to a fight by actor Charlie Sheen.
Plus, The Miz defeated Christian to become the new Intercontinental Champion in a match where the legendary Bret Hart served as the special guest ring annonucer.
Sheamus, Rey Mysterio and Sin Cara conquered Alberto del Rio, Dolph Ziggler and Chris Jericho in a six-man tag-team contest, while Brodus Clay defeated Jack Swagger before enjoying a dance with Mick Foley alter-ego Dude Love.
For more reaction from the 1,000th episode of Raw, visit WWE.com.
Make sure you catch all the fall-out from Raw by watching WWE Smackdown, 10pm, Friday, Sky Sports 2 HD.