Official loss
Ryback's WWE Title hopes were dashed at Hell in a Cell after intervention from the match referee.
Last Updated: 31/10/12 2:37pm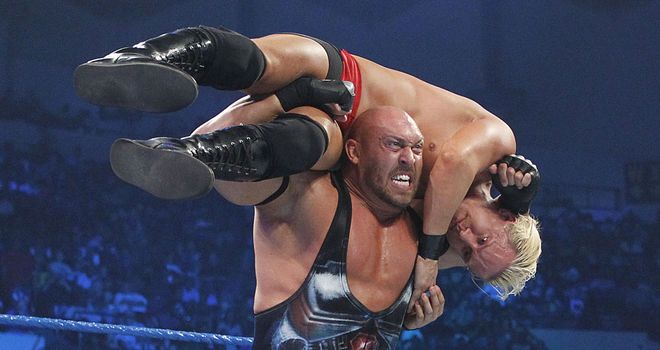 Ryback's hopes of capturing the WWE Championship were shattered at Hell in a Cell after interference from referee Brad Maddox.
Big Hungry, fighting for the revered strap for the first time, was on the verge of levelling reigning titlist CM Punk with his finishing manoeuvre Shell Shocked when the match official hit him with a low blow.
Maddox's quick count then allowed Punk to pin his beleaguered opponent inside the Hell in a Cell enclosure, end Ryback's unbeaten record and retain the belt he has held since November of last year.
A seething Ryback launched a quick response, however, throwing Maddox around the Devil's Playground before chasing Punk onto the top of the Cell and finally administering Shell Shocked to the Second City Saint as the show went off the air.
Punches
Sheamus was unable to keep his gold intact, though, and after a brutal bout, which saw the Irishman receive two knockout punches from the Big Show, lost his World Heavyweight Championship to the World's Largest Athlete.
Intercontinental titlist Kofi Kingston and United States Champion Antonio Cesaro retained their straps with victories over The Miz and Justin Gabriel respectively, while Eve's stint with the Divas Title continues after she beat Kaitlyn and Laya in a Triple Threat Match.
Team Hell No kept hold of their Tag Team Championships, but lost their contest by disqualification to Team Rhodes Scholars after Kane attacked Damien Sandow and Cody Rhodes in the corner of the ring.
Plus, luchadores Rey Mysterio and Sin Cara conquered the Prime Time Players and Randy Orton bettered rival Alberto Del Rio after catching the Mexican Aristocrat with a mid-air RKO.
Remember to tune into Raw and Smackdown on Sky Sports for your weekly fix of rough-and-tumble, and then catch the WWE's next big event, Survivor Series, from 1am, Sunday November 18, on Sky Box Office (Mon morning).