Awesome news
The Miz is on Team Foley, Brad Maddox is on the floor and CM Punk is on notice... Read our Raw report.
Last Updated: 20/11/12 1:14pm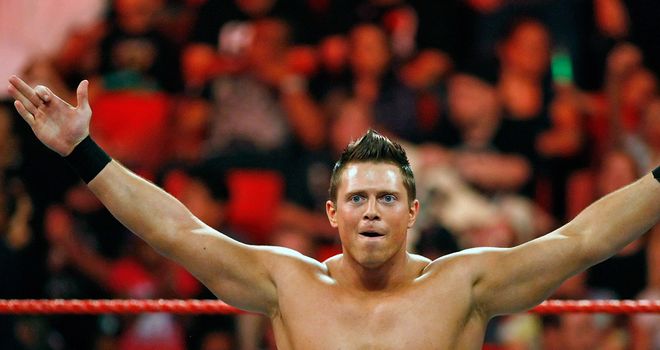 The Miz will fill the final spot on Team Foley for this Sunday's epic five-on-five tag brawl at Survivor Series.
The former WWE Champion - who was part of the opposing squad, Team Ziggler, until he pulled out last week - was selected by the WWE Universe as the fifth member of Foley's brood on Raw.
The Awesome One will work in tandem with Kane; Daniel Bryan; the man he lost the Intercontinental title to, Kofi Kingston; and Randy Orton in Indianapolis this weekend against the quintet of Ziggler, Team Rhodes Scholars, Alberto Del Rio and Wade Barrett.
Click here to order WWE Survivor Series
Miz showed that he can be a team player in his home state of Ohio on Monday night, when he banded with Kane to defeat Cody Rhodes and Damien Sandow, much to the chagrin of the Big Red Monster's regular tag companion, Bryan.
Elsewhere, WWE Champion CM Punk - who has held the prestigious strap since last year's Survivor Series - was beaten by one of his Sunday night opponents, John Cena, after the other, Ryback, got involved, confirming to the Second City Saint just how tough it will be to leave Indiana with the gold.
Cena and Ryback, who engaged in a post-match staredown for the second week in a row, will be focussed on dethroning Punk at Survivor Series - but each had other things on their mind at Raw.
Possession
Cena had to watch on as Vickie Guerrero produced further "evidence" of his affair with AJ Lee, while Ryback pulverised the man that cost him the WWE Championship at Hell in a Cell, Brad Maddox, to shatter the referee's hopes of earning a million-dollar Superstar's contract.
Big Show and Sheamus, who will battle for possession of the World Heavyweight Title on Sunday, recorded momentum-building wins; the World's Largest Athlete conquered William Regal - and then knocked him out backstage - while Sheamus bested David Otunga.
R-Truth, the number one contender for Antonio Cesaro's United States Championship at Survivor Series, beat Tensai, and Kaitlyn edged Layla to earn a weekend meeting with Divas Titlist Eve.
Orton kicked of the evening by overcoming Ziggler in singles action, but after Guerrero decided the two combatants should compete in a tag bout, the Viper and Kofi Kingston then lost to Mr Money in the Bank and Alberto Del Rio.
Meanwhile, in a high-octane affair, Rey Mysterio, Sin Cara, Tyson Kidd and Justin Gabriel bettered the Prime Time Players and Primo and Epico, and Jerry 'The King' Lawler appeared on Raw for the first time since his heart attack in Montreal, Canada in September.
WWE's next big event, Survivor Series, takes place from 1am, Sunday on Sky Box Office (Mon morning). Click here to order.