'Back in the game
Ryback has spent the last few weeks being attacked by the Shield. On Monday Night Raw, he got his revenge...
Last Updated: 06/12/12 12:10pm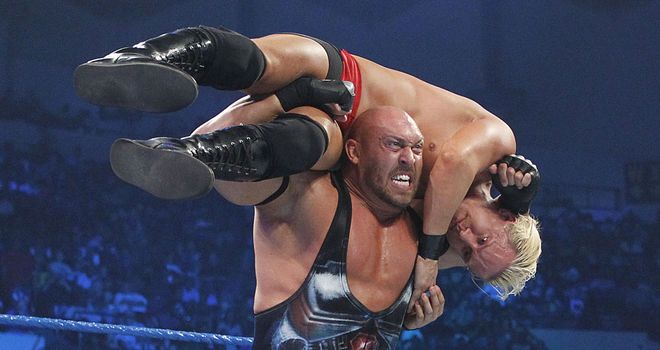 Ryback has fallen victim to the Shield's onslaught over recent weeks - but he finally got his own back on Monday Night Raw in Greensboro, North Carolina.
Shield members Dean Ambrose, Seth Rollins and Roman Reigns maintained their modus operandi - beating people up - when they assaulted The Miz, after the Awesome One had accused WWE Champion CM Punk of being in cahoots with them.
The NXT tyros also administered a pounding to WWE Tag Team Champions Team Hell No when they came to the Miz's aid, but the Shield were soon on the back foot when Ryback - the man they prevented from winning the WWE Title at Survivor Series after dropping him through the announce desk - strode to the ring.
The Sin City powerhouse, with the help of Team Hell No stars Kane and Daniel Bryan, assaulted Ambrose Rollins and Reigns, forcing them to flee - before he turned his attentions to CM Punk, whom he Shell-Shocked, battered with a chair and a ladder and, finally, pummelled through a table.
Ryback, now knows, however - via an announcement from WWE Chairman Vince McMahon on the company's official website - that due to his brutal attack on Punk, which has forced the Chicagoan to undergo knee surgery, his Tables, Ladders and Chairs Match for the WWE Title at TLC is off.
But he will be able to get his hands on the Shield in Brooklyn, New York on Sunday, December 16, when he unites with Kane and Bryan to face the three vigilantes in a TLC bout that, for the first time ever, can only be won by pinfall or submission.
Psychological
Elsewhere, Vickie Guerrero - due to a forceful nudge from McMahon - announced that her client, Dolph Ziggler, would put his Money in the Bank briefcase on the line in a Ladder Match against arch adversary John Cena at TLC.
Cena - who will earn a World Heavyweight Title contest at any time of his choosing if he seizes Ziggler's holdall later this month - gained an early psychological advantage over his TLC opponent on Raw, as he teamed with Sheamus to defeat the Show Off and Big Show in tag action.
Randy Orton conquered Brad Maddox to dash the former referee's hopes of landing a performer's contract - though the Viper quickly joined the list of Superstars to feel the Shield's force when the destructive faction gave him a post-match beat-down, just as they had done to Team Hell No after they had defeated the Prime Time Players in the night's opening contest.
Plus, Damien Sandow bested Santino Marella; Alberto Del Rio recorded victory over fellow Mexican Sin Cara; and, in Divas action, AJ Lee upset Tamina Snuka courtesy of a quick roll-up pin.
For more rough-and-tumble, tune into WWE Smackdown, 10pm, Friday, Sky Sports 2 HD,