Return and conquer
Legends come back, a monster debuts and awards are handed out... Read our Raw report.
Last Updated: 18/12/12 2:03pm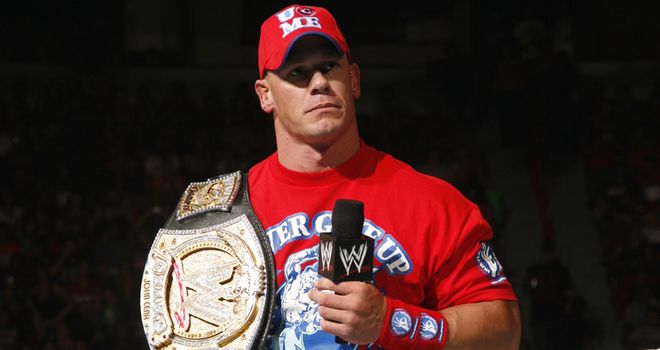 Big-name returns, a failed cash-in attempt and a devastating debut... it all went down on Monday Night Raw.
The WWE Superstars assembled in Philadelphia for the 2012 Slammy Awards, with the likes of Ryback, Kofi Kingston, and the Rock presented with some of the prestigious gongs.
John Cena was awarded the most-coveted prize of all - Superstar of the Year - but just like at Sunday's controversial TLC pay-per-view in Brooklyn, New York, the Cenation Leader's night ended in agony.
Click here to order the WWE TLC repeat
The 12-time world champion was unable to seize Dolph Ziggler's Money in the Bank briefcase at TLC after AJ turned on him, and as Raw rolled off the air on Monday evening, the West Newbury native was left sprawled in the ring following an attack from monstrous NXT competitor Big E. Langston.
However, Cena, who was assaulted by Langston as he banded with Raw's Managing Supervisor Vickie Guerrero to take on Ziggler and AJ in mixed tag action, played a significant role in the World Heavyweight Championship picture earlier in the show.
The Chain Gang soldier stymied Ziggler's Money in the Bank cash-in effort on reigning titlist Big Show, who had been left stricken by a brutal beat-down by Sheamus, suggesting the feud between himself and the Show Off is far from over.
Unleash
The legendary Ric Flair made a shock return to the WWE to present Cena with his Superstar of the Year accolade, but was interrupted by WWE Champion CM Punk and his ally Paul Heyman.
A war of words resulted in the Nature Boy poking Punk in the eye and administering his famed Figure-Four Leglock on Paul Heyman - until the Shield appeared to unleash their force on Flair.
Click here to see a list of the 2012 Slammy Award winners
But thanks to swift intervention from Daniel Bryan, Kane and Ryback, the men the Shield conquered in Brooklyn at the weekend, the Dirtiest Player in the Game was spared a bone-shattering barrage.
ECW original Tommy Dreamer also made a comeback to Raw, uniting with The Miz and Alberto Del Rio to defeat 3MB members Heather Slater, Drew McIntrye and Jinder Mahal, while Rey Mysterio bested Damien Sandow, and Cody Rhodes conquered Sin Cara.
Ryback, who was earlier handed the Newcomer of the Year Slammy, beat United States titlist Antonio Cesaro via count-out, while Intercontinental king Kofi Kingston pinned Tensai - before being battered post-match by Wade Barrett's Bull Hammer manoeuvre.
Plus, Kaitlyn saw off Divas Champion Eve in a non-title contest, The Great Khali downed David Otunga and Brodus Clay bettered JTG.
For more on all these stories head to WWE.com and then watch WWE Smackdown at 1am, Tue, Sky Sports 3 HD (Wed) or the repeat showing on Friday night at 10pm on Sky Sports 4 HD.
And remember, if you missed WWE TLC on Sunday night, you can catch up all week by watching the repeats on Sky Box Office. Click here to order.