Out of tune
The Rock's singing showcase on Raw ended in fisticuffs with his Royal Rumble opponent CM Punk.
Last Updated: 15/01/13 4:52pm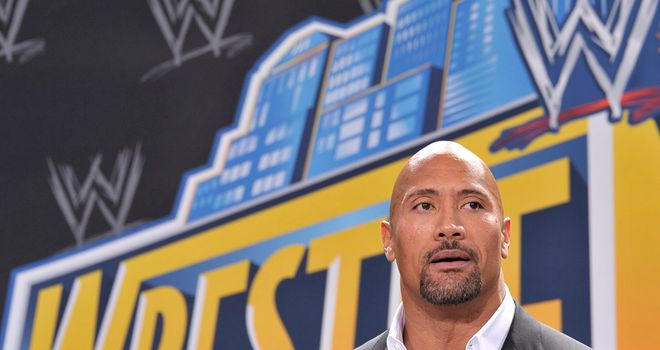 The Rock got physical on the 20th anniversary episode of Raw as his musical showpiece descended into an out-and-out brawl.
The Great One dusted off his guitar to bring the Rock Concert to Houston, Texas, singing less-than-flattering ditties about Raw's managing supervisor Vickie Guerrero and Paul Heyman.
But once the People's Champion turned his attentions CM Punk - the man he will face for the WWE Title at the Royal Rumble - chaos ensued.
The Second City Saint took umbrage to Rock's claims that he would snare his 10th world championship in just under two weeks' time, rushing to the ring to engage in a bitter scrap with The Most Electrifying Man in All of Entertainment that a multitude of WWE officials and referees could barely curtail.
Punk did, however, get the better of Brodus Clay earlier in the evening after locking in the Anaconda Vise on the Funkasaurus, while John Cena defeated bitter rival Dolph Ziggler in a Steel Cage match, despite interference from the Showoff's cohorts AJ Lee and Big E Langston.
Notable
Team Hell No will defend their WWE Tag Team Titles against Team Rhodes Scholars at the Royal Rumble pay-per view in Phoenix, Arizona and gathered momentum by recording individual success over their challengers on Raw; Kane besting Damien Sandow and Daniel Bryan conquering Cody Rhodes.
Kaitlyn outwitted Eve to finally snare the Divas Championship after months of trying, a result that prompted the deposed titlist to quit the WWE in fury.
Meanwhile, Intercontinental strap holder Wade Barrett picked up a notable win over long-time foe and fellow Royal Rumble entrant, Randy Orton, after hitting The Viper with the Bull Hammer.
Orton regrouped, though, and along with Ryback and Sheamus came to the aid of Mick Foley - announced as the first 2013 inductee into the WWE Hall of Fame - when the Hardcore Legend seemed set to receive a beat-down from anarchic trio Dean Ambrose, Seth Rollins and Roman Reigns aka The Shield.
Elsewhere, United States Champion Antonio Cesaro's punishment for interrupting Ric Flair and The Miz's chinwag on MizTV was to receive a series of chops from the former and a Skull-Crushing Finale and a Figure Four Leglock from the latter.
Plus, after losing the World Heavyweight Titlist to Alberto Del Rio in a last man standing match on Smackdown, Big Show announced he would invoke his rematch clause at the Royal Rumble - shortly before coming to blows with the buoyant new champion.
For more on all these stories head to WWE.com, and then tune into WWE Smackdown, 10pm, Friday, Sky Sports 2 HD.