Duel intentions
John Cena lays down a challenge to the Shield and CM Punk beats an old rival... Read our Raw report.
Last Updated: 07/02/13 3:35pm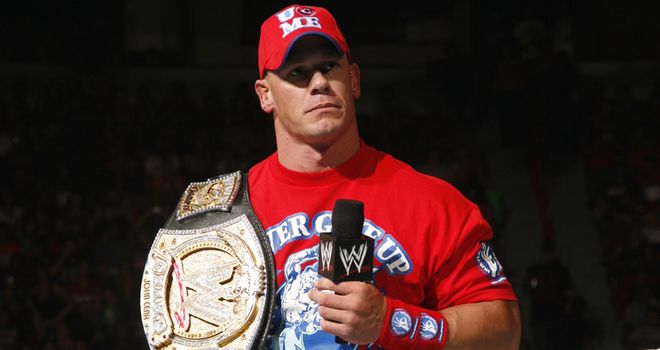 The Shield like to fight and, if they accept John Cena's challenge, will get one at Elimination Chamber.
Dean Ambrose, Seth Rollins and Roman Reigns inflicted their barbaric brand of justice on Monday Night Raw, hitting Brad Maddox with their patented triple powerbomb and leaving him sprawling in the ring after the former referee revealed that he had provided the video evidence showing the trio had been in cahoots with Paul Heyman.
The rogue group, however, were swiftly encountered by Cena, Sheamus and Ryback - three man that have felt the fullness of the Shield's force in recent months - and with a host of their other victims situated on the entrance ramp, Ambrose, Rollins and Reigns were forced to flee through the crowd.
But after the Raw cameras stopped rolling, Cena dared the destructive threesome to face him, Sheamus and Ryback in a six-man tag-team bout at Elimination Chamber in New Orleans on Sunday, February 17.
The WWE Universe waits anxiously for the Shield's riposte...
Elsewhere, CM Punk, now referring to himself as 'The People's Champion', geared up for his WWE Title rematch with the Rock in just under two weeks' time by pinning his WrestleMania XXVIII opponent Chris Jericho after a terrific technical tussle.
World Heavyweight Champion Alberto Del Rio, meanwhile, defeated Cody Rhodes and then attacked Big Show in the halls of his hotel with a fire extinguisher after the World's Largest Athlete had inked a contract to face the Mexican Aristocrat for his strap at Elimination Chamber.
Devastating
Paul Heyman appeared on MizTV to declare that he had no idea Brock Lesnar - signed to a new deal by Raw's Managing Supervisor Vickie Guerrero - would hit WWE Chairman Vince McMahon with an F-5 at the denouement of the previous Raw.
But when The Miz accused Heyman and Guerrero of being "bottom feeders", Lesnar made another devastating appearance, tossing furniture in The Awesome One's direction and nailing him the same manoeuvre with which he broke McMahon's hip.
Daniel Bryan and Rey Mysterio - both of whom will figure in the World Heavyweight Championship Number-One Contenders Elimination Chamber Match - fought out a gripping contest that the former won after locking in his No Lock on the Master of the 619.
But both men were then sucker-punched by the returning Mark Henry; the World's Strongest Man tossing Bryan to the ground and levelling Mysterio, and Sin Cara, with World's Strongest Slams.
Plus, Ryback bested United States Champion Antonio Cesaro; Sheamus toppled Kane after the Big Red Monster was distracted by tag-team partner Bryan; and Randy Orton beat Intercontinental Titlist Wade Barrett.
And Jack Swagger, who made his return to the WWE on Friday Night Smackdown, registered victory over Santino Marella, forcing the Italian to tap out to his Patriot Act ankle lock.