Triple H and Brock Lesnar brawl on Raw and John Cena books WrestleMania berth
Triple H came to Vince McMahon's aid on Monday Night Raw and brutally attacked Brock Lesnar.
Last Updated: 26/02/13 7:09pm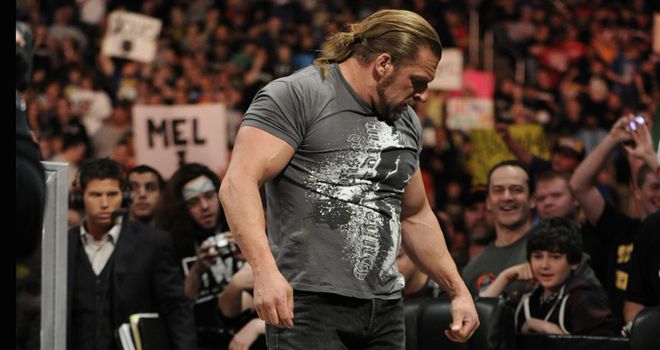 WWE Chairman McMahon gained the upper hand in his dust-up with Heyman, despite entering the clash on crutches, but before he could do any lasting damage to his long-term rival, Brock Lesnar appeared.
The Anomaly, who attacked McMahon on a recent edition of Raw, forcing him to undergo hip surgery, attempted to destroy the tycoon once again - until Triple H came to his father in-law's rescue.
The Game, beaten by Lesnar at SummerSlam, hit the squared circle like a man possessed, cutting his enemy's head open after tossing him into the steel ring post - creating a wound that would later require 18 stitches - and sending him retreating from further harm's way.
This feud is not over...
Elsewhere, John Cena secured his spot in the WWE Title match against The Rock at WrestleMania after pinning CM Punk at the culmination of a near 30-minute epic inside Dallas' American Airlines Center.
Both competitors hit their opponent with multiple high-impact manoeuvres, but Cena ultimately prevailed, earning him a 'Mania clash with The Great One for the second year running and, seemingly, leaving Punk alienated from the WWE Championship picture.
Dropping
Jack Swagger, meanwhile, engaged in a political-based war of words with the man he will try to pluck the World Heavyweight Title from at WrestleMania, Alberto Del Rio, before knocking off The Miz in singles action.
Randy Orton had a busy evening, pinning United States Champion Antonio Cesaro in their one-on-one meeting and then dropping Seth Rollins with an RKO as his fellow Shield members, Dean Ambrose and Roman Reigns, tried to get their hands on Sheamus.
Ryback, who has had myriad problems with the Shield himself, defeated Mr Money in the Bank Dolph Ziggler; Mark Henry vanquished The Great Khali in a battle of the behemoths; and fit-again R-Truth conquered Cody Rhodes.
Plus, warring WWE Tag Team Champions Team Hell No were able to connect long enough to best the Prime Time Players - despite the fact that Kane had one hand tied behind his back and Daniel Bryan was wearing a blindfold.
For more rough and tumble, tune into WWE Smackdown, 10pm, Friday, Sky Sports 2 HD.