CM Punk will try to end Undertaker's 20-0 WrestleMania streak
CM Punk has the opportunity to complete a WrestleMania first. Click here to find out what it is...
Last Updated: 25/03/13 4:33pm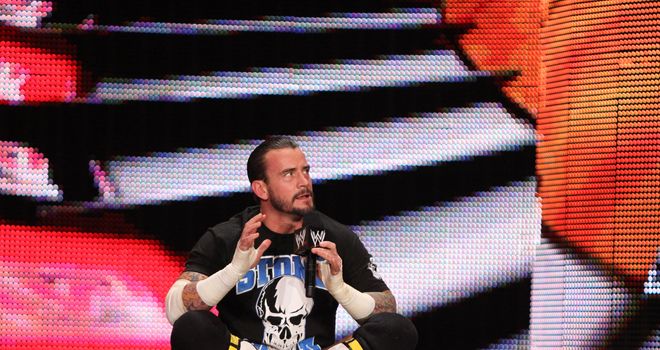 The Second City Saint defeated Randy Orton, Sheamus and Big Show in a Fatal Four Way clash on Monday night's edition of Raw, and will now get the chance to end The Undertaker's unbeaten streak at WrestleMania on April 7 in New Jersey.
The Undertaker - who kicked off 'Old School' Raw by emerging from the shadows and signalling his intent to wrestle on the grandest stage of them all once again - has won each of his 20 'Mania matches, beating the likes of Triple H, Shawn Michaels, Batista, Edge and his brother, Kane.
But the Phenom could face his toughest challenge yet at this year's gala when he locks horns with Punk, who had held the WWE Championship for 434 consecutive days before losing to The Rock at the Royal Rumble.
Triple H, meanwhile, challenged Brock Lesnar, the man with whom he engaged in a brutal brawl on the previous edition of Raw and lost to at August's SummerSlam pay-per-view, to a match at WWE's showpiece event.
Scuffling
Plus, the participants in the WWE Championship bout at MetLife Stadium, The Rock and John Cena, debated why they will come out victorious in just over a month's time, while The Miz, aided by having the iconic Ric Flair in his corner, forced Dolph Ziggler to tap out in singles action.
Elsewhere, Jack Swagger assaulted WWE legends "Hacksaw" Jim Duggan, Dusty Rhodes and Sgt Slaughter, before scuffling backstage with his 'Mania opponent, World Heavyweight Champion Alberto Del Rio, a winner over Wade Barett later in the night.
There was also a monstrous stare-down between Ryback and Mark Henry, who conquered Antonio Cesaro and Zack Ryder respectively, but dance master Fandango refused to make his WWE debut against Kofi Kingston after ring announcer Justin Roberts pronounced his name incorrectly.
And in tag-team action, Team Hell No registered victory over the Prime Time Players, Brodus Clay and Tensai defeated 3MB and the New Age Outlaws, appearing in a match on Raw for the first time in 13 years, saw off Primo and Epico.
For more on all these stories head to WWE.com and for further grappling action, tune into WWE Smackdown, 11pm, Friday, Sky Sports 3 HD.