Fandango attacks Chris Jericho, while Ryback floors Mark Henry
Fandango swapped the foxtrot for a leg drop on Friday Night Smackdown when he assaulted Chris Jericho.
Last Updated: 11/04/13 5:27pm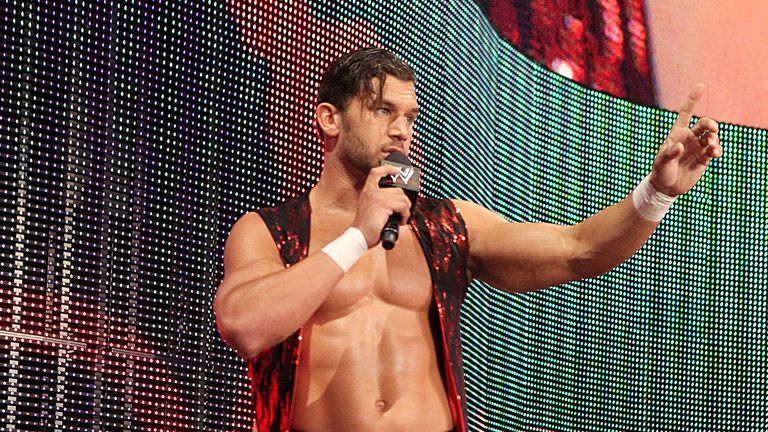 The ballroom-dance enthusiast - who has cited ring announcers and competitors' failure to pronounce his name properly as the reason why he has yet to do battle between the ropes - interfered in Chris Jericho's bout with Jack Swagger and cost Y2J the victory.
Fandango, who was mocked by Jericho on Monday's episode of Raw, kicked the Ayatollah of Rock 'n' Rolla in in the head whilst Swagger's mouthpiece Zeb Colter had distracted the referee, allowing the Real American to connect with his Swagger Bomb and pick up the three count.
But the jiving grappler was not finished with Jericho, who has now lost to Swagger twice in two weeks, and hit him post-match with a devastating top-rope leg drop before sauntering backstage with his female companion.
Elsewhere, strange bedfellows Big Show, Sheamus and Randy Orton banded together to defeat 3MB members Heath Slater, Drew McIntyre and Jinder Mahal in a six-man tag-team contest in Cincinnati, Ohio.
The trio, who appeared on MizTV earlier in the evening and insisted that they could function as a unit, engaged in a dose of in-fighting after their triumph, but quickly regrouped to thwart an attack from The Shield, the faction they seem set to fight at WrestleMania.
Mark Henry, meanwhile, obliterated Zack Ryder but was then levelled by 'Mania opponent Ryback's Meat Hook Clothesline as the big men's rivalry cranked up another notch, while The Miz conquered United States Champion Antonio Cesaro as Intercontinental Titlist Wade Barrett watched on.
Plus, Kofi Kingston was pinned by Dolph Ziggler and then flattened by the Showoff's muscle Big E Langston, and Team Rhodes Scholars' clash with Brodus Clay and Tensai was rendered a no-contest after the Bella Twins and the Funkadactyls brawled at ringside.
WrestleMania booking details
WrestleMania 29 will be shown on Sky Sports Box Office (channel 743) and in high definition on Sky Box Office HD (channel 752) at midnight on Sunday, April 7 (Mon morning).
WrestleMania 29 will be repeated on Sky Sports Box Office (channel 743) - but NOT on Sky Sports Box Office HD (channel 752) - between 10am on Monday, April 8 and 10pm on Saturday, April 13. Repeat showings will last for four hours.
The event is priced at £17.95 for UK customers, €24.95 for customers in the Republic of Ireland.
You can order WrestleMania 29 nearer the event by pressing the Box Office button on your remote. Select 'sports & events' and follow the on-screen instructions.
Viewers are able to call 08442 410 888 to book WrestleMania 29.(There may be an additional charge for telephone bookings).
You can also book WrestleMania 29 online by clicking this link www.sky.com/orderboxoffice
Cable customers should contact their local cable operator.