The Shield get beaten up and The Rock floors John Laurinaitis
Sheamus, Randy Orton and Big Show brawled with The Shield in the crowd on Friday Night Smackdown.
Last Updated: 01/04/13 6:34pm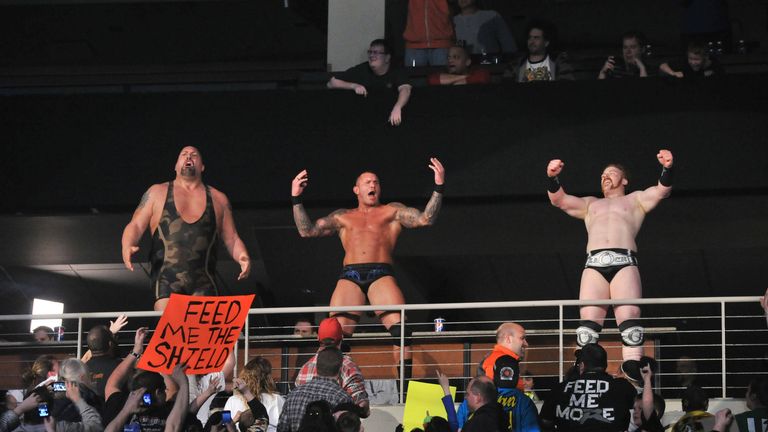 The former world champions, who will combine to take on The Shield at WrestleMania 29 on Sunday evening in New Jersey, defeated Team Rhodes Scholars and United States Champion Antonio Cesaro in a six-man tag team match.
Shield members Dean Ambrose, Seth Rollins and Roman Reigns attempted to launch an attack seconds after Sheamus had pinned Cody Rhodes, but The Celtic Warrior, The Viper and The World's Largest Athlete were not fazed.
The newly-moulded group surged into the crowd to meet their WrestleMania adversaries head on, dishing out a comprehensive beating to the former NXT renegades and forcing them to flee from danger.
Interrupt
Elsewhere, WWE Champion The Rock, who will put his belt on the line at against John Cena at 'Mania, hit John Lauriniatis with a Spinebuster and a People's Elbow following the ex-Raw and Smackdown general manager's decision to interrupt his speech to the WWE Universe.
Chris Jericho bested Intercontinental Champion Wade Barrett in a non-title match after the Brit was distracted by WrestleMania foe The Miz; while Paul Heyman told Josh Matthews why Triple H's career, both inside and outside of the ring, would soon be in tatters.
Mark Henry and Ryback, meanwhile, competed in a bench-press challenge, but after both men had set new records by achieving 53 repetitions, the World's Strongest Man dropped the weight-laden bar onto the Sin City powerhouse.
Plus, World Heavyweight Champion Alberto Del Rio assaulted Jack Swagger, the man he will defend his strap against at MetLife Stadium on Sunday; and Kaitlyn and Daniel Bryan knocked off AJ Lee and Dolph Ziggler in a mixed tag team bout.
WrestleMania booking details
WrestleMania 29 will be shown on Sky Sports Box Office (channel 743) and in high definition on Sky Box Office HD (channel 752) at midnight on Sunday, April 7 (Mon morning).
WrestleMania 29 will be repeated on Sky Sports Box Office (channel 743) - but NOT on Sky Sports Box Office HD (channel 752) - between 10am on Monday, April 8 and 10pm on Saturday, April 13. Repeat showings will last for four hours.
The event is priced at £17.95 for UK customers, €24.95 for customers in the Republic of Ireland.
You can order WrestleMania 29 nearer the event by pressing the Box Office button on your remote. Select 'sports & events' and follow the on-screen instructions.
Viewers are able to call 08442 410 888 to book WrestleMania 29.(There may be an additional charge for telephone bookings).
You can also book WrestleMania 29 online by clicking this link www.sky.com/orderboxoffice
Cable customers should contact their local cable operator.