Dolph Ziggler, Ryback, Wade Barrett and more catch eye on Raw
There were plenty of thrills and spills on the first Raw after WrestleMania. Read about them here...
Last Updated: 11/04/13 12:34pm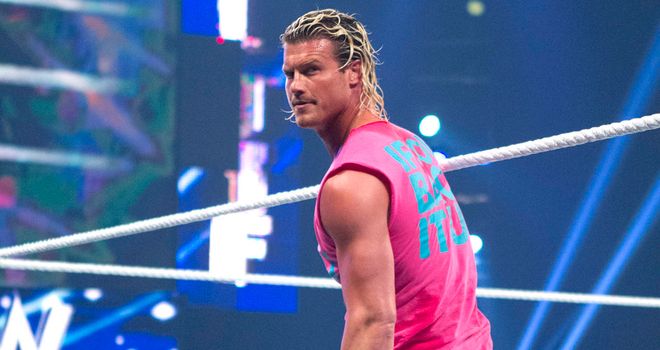 Monday Night Raw was a prime example of that as three renegades set their sights on the Dead Man, fresh Intercontinental and World Heavyweight Champions were crowned, and the newly-anointed WWE titlist was floored by a former ally.
The Shield bested Randy Orton, Sheamus and Big Show at WrestleMania and just 24 hours later seemed intent on attacking The Undertaker, who took his Show of Shows record to 21-0 after conquering CM Punk on Sunday evening at MetLife Stadium.
Dean Ambrose, Seth Rollins and Roman Reigns emerged from the stands as the Phenom paid tribute to his late manager Paul Bearer, but when it seemed as if the legend was in peril, Kane and Daniel Bryan rushed from the locker room, compelling the Shield to flee.
Wade Barrett, meanwhile, was relieved of the Intercontinental Championship on the WrestleMania pre-show, but swiftly regained the strap on Raw by pinning The Miz in front of a vociferous crowd at New Jersey's Izod Center.
And the audience went into overdrive when Dolph Ziggler - whose heavy, Big E Langston, defeated Bryan earlier in the show - cashed in his Money in the Bank contract on a stricken Alberto Del Rio to poach the World Heavyweight Championship.
Del Rio had just prevailed in a handicap bout against Jack Swagger and Zeb Colter, forcing the former to tap out to the Cross Armbreaker, but was no match for the Show Off, who administered a Zig Zag on the Mexican to record the victory.
Stars
John Cena kicked off Raw by celebrating pinching the WWE Title from The Rock in the WrestleMania event, but with the Great One picking up an injury at the Showcase of the Immortals and unable to receive an immediate rematch, a potential new challenger arose.
Booker T informed Cena that he would meet Mark Henry in Raw's showcase contest and should the World's Strongest Man triumph he would be granted a world title opportunity.
Cena managed to grab a count-out victory over his larger opponent but was quickly seeing stars when he was levelled with a Meathook Clothesline and a Shell Shocked from Ryback, the man he teamed up with at Elimination Chamber to take on The Shield.
Sheamus and Orton, meanwhile, were assaulted by the Big Show after their unsuccessful attempt to quell The Shield at 'Mania and faced each other on Raw to try to earn a match with the World's Largest Athlete.
The Celtic Warrior and The Viper fought out an eye-catching duel but before a winner could be decided, Big Show stomped to the ring, taking out Sheamus and annihilating Orton with a powerful spear.
Elsewhere, Tons of Funk and the Funkadactyls beat Team Rhodes Scholars and The Bella Twins; Santino Marella, Zack Ryder and R-Truth toppled 3MB; and Chris Jericho brutally attacked Fandango - before the audience hummed the latter's entrance music fervently.
If you missed WrestleMania 29, you can catch it until Saturday on Sky Box Office.
WrestleMania Booking details
WrestleMania 29 will be repeated on Sky Sports Box Office (channel 743) - but NOT on Sky Sports Box Office HD (channel 752) - between 10am on Monday, April 8 and 10pm on Saturday, April 13. Repeat showings will last for four hours.
The event is priced at £17.95 for UK customers, €24.95 for customers in the Republic of Ireland.
You can order WrestleMania 29 by pressing the Box Office button on your remote. Select 'sports & events' and follow the on-screen instructions.
Viewers are able to call 08442 410 888 to book WrestleMania 29. (There may be an additional charge for telephone bookings).
You can also book WrestleMania 29 online by clicking this link www.sky.com/orderboxoffice
Cable customers should contact their local cable operator.