John Cena flattens Ryback on Monday Night Raw at London's O2 Arena
John Cena floored Ryback and The Shield won again on an action-packed Raw at the O2 Arena.
Last Updated: 29/04/13 1:55pm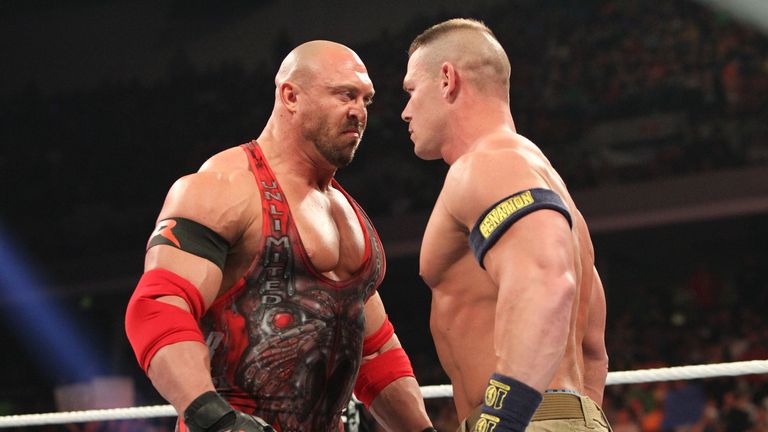 WWE Champion Cena was attacked by Ryback the night after WrestleMania 29 and then saw his former ally fail to come to his aid last week when he was brutally beaten down by black-clad renegades The Shield.
But the West Newbury native finally got some payback in the English capital when - after he and Ryback had momentarily banded together to fend off an onslaught from Dean Ambrose, Seth Rollins and Roman Reigns - he levelled his foe with an Attitude Adjustment.
However, Ryback - who attempted to goad WWE Hall of Famer Mick Foley into a fight at the O2 before Cena intervened - will be buoyed by the fact he has been granted a chance to snare his adversary's strap at Extreme Rules, which comes your way on Sky Box Office HD on Sunday, May 19.
Click here for more details on WWE Extreme Rules
Elsewhere, Triple H accepted Brock Lesnar's challenge of a steel cage match at next month's pay-per-view in St Louis, Missouri - and then promptly dished out a Pedigree to the Anomaly's advocate Paul Heyman - whilst The Shield recorded another monumental win.
Evade
Ambrose, Rollins and Reigns remain unconquered since they made their in-ring debut at Tables, Ladders and Chairs in December, and on Monday evening saw off the trio of WWE Tag Team Champion Kane and Daniel Bryan and The Undertaker.
The Phenom, wrestling on Raw for the first time in three years, unleashed a torrent of pain on The Shield, but the erstwhile NXT rebels secured the triumph when Ambrose evaded a diving head-butt from Bryan and pinned the submission expert.
Chris Jericho, meanwhile, lost to World Heavyweight Champion Dolph Ziggler after being distracted by the much-hummed ring music of nemesis Fandango, but claimed retribution later in the show by bashing the ballroom enthusiast following his victory over British grappler William Regal.
Plus, Damien Sandow pinned Brodus Clay; Cody Rhodes was edged out by Tensai; R-Truth bested deposed United States Champion Antonio Cesaro, Big E Langston squashed Zack Ryder; and AJ Lee became the number one contender to the Divas Championship by winning a Battle Royal.
Extreme Rules booking details
WWE Extreme Rules will be shown on Sky Box Office HD (752) and Sky Box Office (743) on Sunday, May 19 (Monday morning).
WWE Extreme Rules will be repeated on Sky Sports Box Office (channel 743) - but NOT on Sky Sports Box Office HD (channel 752) - between 9am on Monday, May 20 and 9pm on Saturday, May 25. Repeat showings will last for three hours.
The event is priced at £14.95 for UK customers, €21.95 for customers in the Republic of Ireland.
You can order WWE Extreme Rules by pressing the Box Office button on your remote from Friday, May 10. Select 'sports & events' and follow the on-screen instructions.
Viewers are able to call 08442 410 888 to book WWE Extreme Rules from Friday, May 10. (There may be an additional charge for telephone bookings).
Cable customers should contact their local cable operator.