John Cena and Ryback competed in Three Stages of Hell Match
Did John Cena down Ryback? Did CM Punk make a winning return to action? Click here to find out...
Last Updated: 18/06/13 3:52pm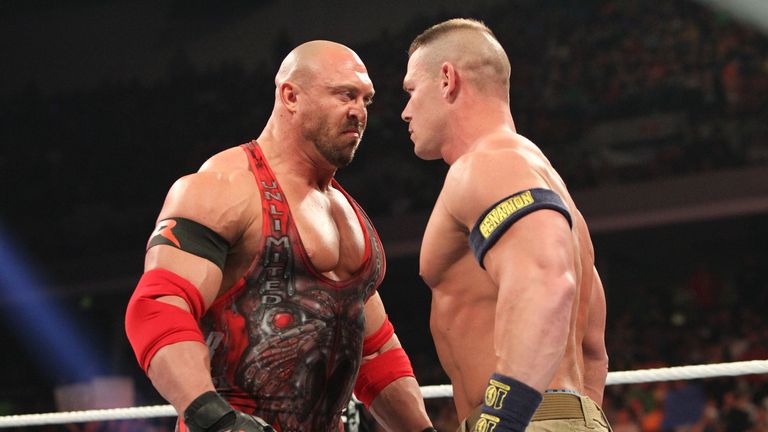 The Cenation Leader and The Human Wrecking Ball engaged in a Three Stages of Hell Match at Sunday night's pay-view in Chicago, which comprised of a Lumberjack bout, a Tables encounter and an Ambulance duel.
Ryback won the first clash in the trilogy courtesy of a bone-crunching Shell Shocked and a subsequent pin on his opponent, but Cena battled back, dropping the Sin City powerhouse through a table to even the score.
The West Newbury native and his foe then smashed each other with crutches and parts of the ambulance, including the light, during the third fight of the contest, but Cena prevailed when he launched Ryback through the top of the medical vehicle after an Attitude Adjustment.
Click here to order the WWE Payback repeat
Triumphant
Elsewhere, hometown hero CM Punk, absent since the night after WrestleMania 29, made a triumphant return to the ring by pinning Chris Jericho, the man he had also bested at WrestleMania 28.
Alberto Del Rio, meanwhile, regained the World Heavyweight Championship from Dolph Ziggler in the Show-Off's first title defence since he picked up a concussion, and AJ Lee ripped the Divas strap from Kaitlyn after forcing her rival to submit to her Black Widow manoeuvre .
Seth Rollins and Roman Reigns kept hold of the WWE Tag Team Titles by seeing off strange bedfellows Daniel Bryan and Randy Orton, while Dean Ambrose made it a clean sweep for The Shield as he defeated Kane via count-out to preserve his grip on the United States Championship.
Plus, a new Intercontinental Champion was crowned when the newest Paul Heyman guy, Curtis Axel, pinned Wade Barrett - just as the Brit was about to tap out to The Miz's Figure-Four Leglock.
Booking details
WWE Payback will be repeated on Sky Sports Box Office (channel 743) - but NOT on Sky Sports Box Office HD (channel 752) - between 9am on Monday, June 17 and 9pm on Saturday, June 22. Repeat showings will last for three hours.
The event is priced at £14.95 for UK customers, €21.95 for customers in the Republic of Ireland.
You can order WWE Payback by pressing the Box Office button on your remote. Select 'sports & events' and follow the on-screen instructions.
Viewers will be able to call 08442 410 888 to book WWE Payback. (There may be an additional charge for telephone bookings).
You can also book WWE Payback online by visiting this link: https://my.sky.com/orderboxoffice/
Cable customers should contact their local cable operator.Click here to order