CM Punk attacked by Brock Lesnar on Monday Night Raw in Michigan
CM Punk was clobbered, Christian returned and Mark Henry fooled everyone on an action-packed Raw.
Last Updated: 20/06/13 8:36am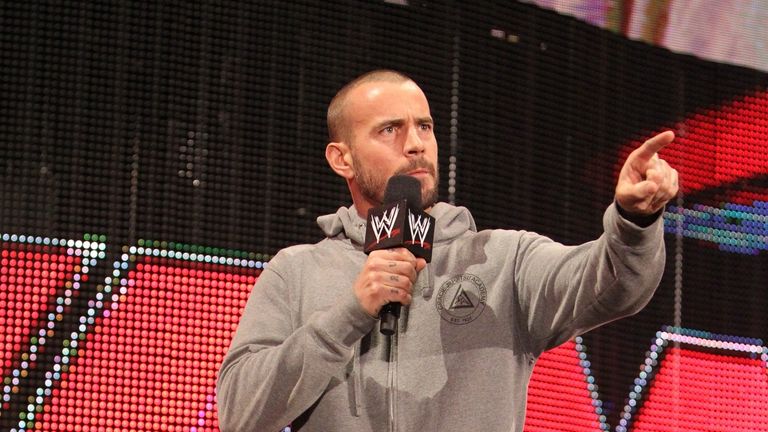 CM Punk defeated newly-anointed World Heavyweight Champion Alberto Del Rio via count-out in Grand Rapids, Michigan on his first Monday night appearance since April - but was soon seeing stars courtesy of The Beast Incarnate.
Brock Lesnar - who beat Triple H in a Steel Cage Match at Extreme Rules in May - strode to the ring with a smirk on his face, before levelling Punk with his patented F-5 finishing manoeuvre and leaving the Second City Saint writhing in pain.
Elsewhere, Christian, out of action since last summer, made a successful return to the ring by pinning ex-Intercontinental Champion Wade Barrett - but a tearful departure proved to be nothing but a cunning ruse.
Click here to order the WWE Payback repeat
Mark Henry interrupted John Cena's WWE Championship address to announce that he was hanging up his boots and proceeded to bid a weepy goodbye to the WWE Universe.
Crashed
However, when Cena embraced the World's Strongest Man, he was quickly desecrated by a World's Strongest Slam before Henry announced his intention to rip the Cenation Leader's title from him - something he will now get the chance to do at July's Money in the Bank pay-per-view.
Randy Orton defeated Daniel Bryan, meanwhile, when a WWE doctor declared the latter could not continue after he had mistimed a suicide dive and crashed into the barricade.
Plus, Kane's hopes of tearing the United States Championship from Dean Ambrose were dashed when he was struck by The Shield's triple powerbomb shortly after the match had got underway.
Elsewhere, Chris Jericho and new Intercontinental Champion Curtis Axel recorded victories over Heath Slater and Sin Cara respectively, Team Rhodes Scholars vanquished Sheamus in a handicap match, and Antonio Cesaro knocked off William Regal.
But it was a sour night for Divas Champion AJ Lee, who was given a dressing down from Stephanie McMahon and assaulted by Kaitlyn, the grappler she wrestled her title from at Payback on Sunday night.
WWE Payback booking details
WWE Payback will be repeated on Sky Sports Box Office (channel 743) - but NOT on Sky Sports Box Office HD (channel 752) - between 9am on Monday, June 17 and 9pm on Saturday, June 22. Repeat showings will last for three hours.
The event is priced at £14.95 for UK customers, €21.95 for customers in the Republic of Ireland.
You can order WWE Payback by pressing the Box Office button on your remote. Select 'sports & events' and follow the on-screen instructions.
Viewers will be able to call 08442 410 888 to book WWE Payback. (There may be an additional charge for telephone bookings).
You can also book WWE Payback online by visiting this link: https://my.sky.com/orderboxoffice/
Cable customers should contact their local cable operator.