Monday Night Raw: John Cena beats Ryback in Tables Match in Texas
Tables were shattered, monsters were attacked and champions were pinned on Monday Night Raw...
Last Updated: 30/07/13 3:09pm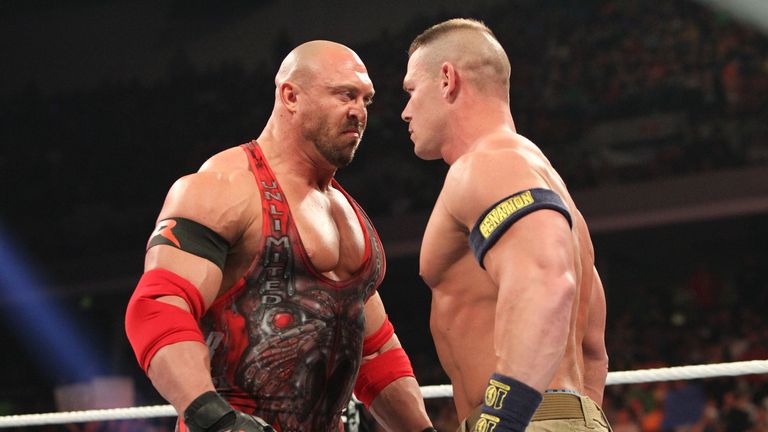 That, in a nutshell, was the story of Monday Night Raw's main event as John Cena defeated long-time nemesis Ryback in a Tables Match in Texas.
The WWE Champion - who challenged Ryback to the contest after he had smashed SummerSlam opponent Daniel Bryan through a table last week - was subjected to a brutal beating from the Human Wrecking Ball for the majority of the bout.
But Cena managed to evade the Sin City powerhouse's attempt at dropping him onto the wood and eventually administered the Attitude Adjustment on his rival to record the win - before going face-to-face with Bryan.
Submission specialist Bryan collected a victory of his own on Raw by defeating former Team Hell No comrade Kane, and the Big Red Monster's misery was confounded when he was attacked by The Wyatt Family's Luke Harper and Erick Rowan.
Scampering
Mark Henry also delivered an after-fight assault, bombarding The Shield in retaliation for their defeat of him and The Usos in six-man tag team action, while Christian stunned World Heavyweight Champion Alberto Del Rio to win a non-title encounter.
Intercontinental Champion Curtis Axel overcame R-Truth - before he and manager Paul Heyman were sent scampering into the crowd by an enraged CM Punk - and Nikki Bella and Kaitlyn prevailed in Divas duels against Natalya and AJ Lee respectively.
AJ made her presence felt in Dolph Ziggler's fight with Big E Langston, too, battering the Showoff as he conquered his ex-henchman via disqualification, while Rob Van Dam vanquished Fandango by count-out after the ballroom expert scuttled from the ring.
Plus, Damien Sandow launched a verbal tirade on Cody Rhodes, the man who threw his Money in the Bank briefcase into the Gulf of Mexico on Friday Night Smackdown, following the The Essence of Mustachioed Magnificence's win over Wade Barrett.
WWE's next pay-per-view, SummerSlam, comes your way on Sunday, August 18. Make sure you catch all the action, live on Sky Sports HD Box Office.
WWE SummerSlam Booking details
WWE SummerSlam will be shown live on Sky Sports Box Office (channel 743) and in high definition on Sky Sports HD Box Office (channel 752) at 1am on Sunday, August 18 (Monday morning).
WWE SummerSlam will be repeated on Sky Sports Box Office (channel 743) - but NOT on Sky Sports HD Box Office (channel 752) - between 9am on Monday, August 19 and 9pm on Saturday, August 24. Repeat showings will last for three hours.
The event is priced at £14.95 for UK customers, €21.95 for customers in the Republic of Ireland.
You can order WWE SummerSlam from Friday, August 9 by pressing the Box Office button on your remote. Select 'sports & events' and follow the on-screen instructions.
Viewers will be able to call 08442 410 888 to book WWE SummerSlam from Friday, August 9. (There may be an additional charge for telephone bookings).
You can also book WWE SummerSlam online from Friday, August 9 by visiting this link: https://my.sky.com/orderboxoffice/
Cable customers should contact their local cable operator.