WWE Smackdown: Christian earns World Heavyweight Title bout
Christian landed the thing he has been craving on Smackdown - a shot at the World Heavyweight Title.
Last Updated: 04/08/13 1:52pm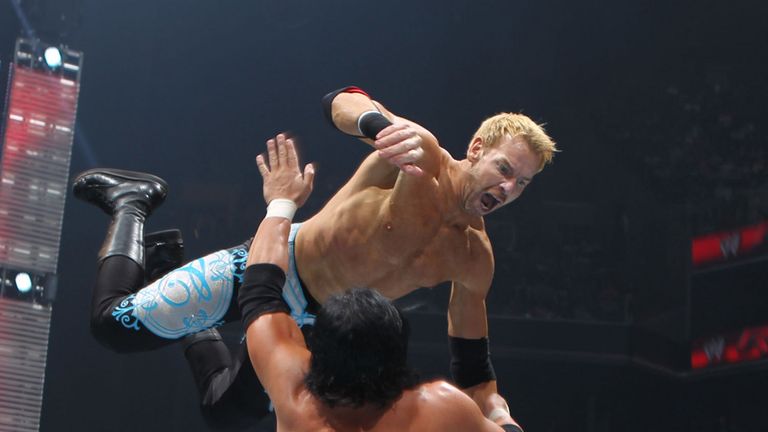 Captain Charisma secured the championship clash he had been craving by beating Rob Van Dam and Randy Orton in a high-octane Triple Threat Match on the latest edition of Friday Night Smackdown.
Del Rio had been granted the opportunity to cherry-pick his SummerSlam opponent by Vickie Guerrero, but after attempting to choose his personal ring announcer Ricardo Rodriguez, Smackdown's new General Manager changed her mind.
Guerrero sanctioned the aforementioned three-man duel to decide who would face the Mexican Aristocrat in Los Angeles on August 18, and Christian came out on top, pinning Orton to earn a shot at claiming his third World Heavyweight Championship.
However, the Canadian - who won his first world title by defeating Del Rio in a Ladder Match at the Extreme Rules event in 2011 - saw his celebrations cut short via a post-bout beat-down from his SummerSlam rival.
Elsewhere, Cody Rhodes recorded victory over Jack Swagger - before being attacked by former friend Damien Sandow - and Big E Langston overpowered masked sensation Sin Cara to win their encounter.
Langston's ally, AJ Lee, meanwhile, kept hold of her Divas Title, but only after opponent Kaitlyn saw her championship charge thwarted by Layla, while CM Punk vanquished Fandango, hitting the dance lover with a superplex and them forcing him to submit to the Anaconda Vice.
For more rough-and-tumble, tune into WWE Late Night Raw, 1am, Monday, Sky Sports 4 (Tuesday morning).
WWE SummerSlam Booking details
WWE SummerSlam will be shown live on Sky Sports Box Office (channel 743) and in high definition on Sky Sports HD Box Office (channel 752) at 1am on Sunday, August 18 (Monday morning).
WWE SummerSlam will be repeated on Sky Sports Box Office (channel 743) - but NOT on Sky Sports HD Box Office (channel 752) - between 9am on Monday, August 19 and 9pm on Saturday, August 24. Repeat showings will last for three hours.
The event is priced at £14.95 for UK customers, €21.95 for customers in the Republic of Ireland.
You can order WWE SummerSlam from Friday, August 9 by pressing the Box Office button on your remote. Select 'sports & events' and follow the on-screen instructions.
Viewers will be able to call 08442 410 888 to book WWE SummerSlam from Friday, August 9. (There may be an additional charge for telephone bookings).
You can also book WWE SummerSlam online from Friday, August 9 by visiting this link: https://my.sky.com/orderboxoffice/
Cable customers should contact their local cable operator.