Monday Night Raw: Daniel Bryan fights every member of The Shield
Daniel Bryan defaced Randy Orton's Cadillac on Monday Night Raw and was very quickly made to pay...
Last Updated: 28/08/13 5:31pm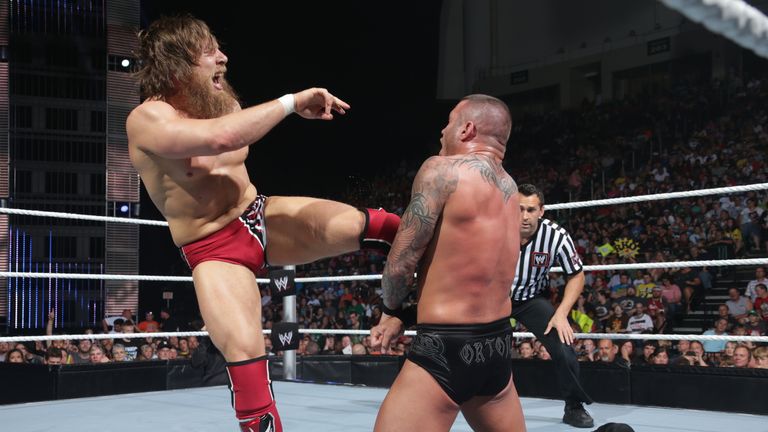 The submission specialist was informed by Triple H at the beginning of Monday Night Raw that he would face each member of The Shield - Seth Rollins, Dean Ambrose and Roman Reigns - in singles matches to prove he deserved another shot at the WWE Title.
However, Bryan emerged before his duels to defile the Cadillac Escalade that WWE COO Triple H had presented to WWE Champion Randy Orton, spray painting the plush new vehicle with his trademark word 'Yes' several times over.
The bearded grappler - who was cheated out of the WWE strap at SummerSlam by Triple H and Orton - then began his scuffle with The Shield, defeating Rollins with a top-rope German suplex, a knee to the head and, finally, a pinfall.
Bryan collected victories over Ambrose and Reigns, too - via disqualification after the black-clad renegades interfered in each other's matches - but was soon put down when the Shield joined forces.
The former World Heavyweight and Tag Team Champion was flattened by Ambrose, Rollins and Reigns' triple powerbomb and then floored once more by Orton, the man he will try to prise the WWE Title from at Night of Champions on Sunday, September 15.
Stymied
Orton, meanwhile, beat Christian, pinning Captain Charisma after a thumb to the eye and an RKO, plus Rob Van Dam knocked off Alberto Del Rio to earn a World Heavyweight Title match against the same opponent at the next pay-per-view in Detroit.
Elsewhere, CM Punk - conquered by Brock Lesnar in a brutal SummerSlam bout - vanquished Intercontinental Champion Curtis Axel, but was stymied in his attempts to beat up Paul Heyman.
The WWE Universe decided that should Punk best Axel he would get his hands on friend-turned-foe Heyman, but once the son of "Mr Perfect" Curt Hennig had been defeated, he saved his wily manager from a torrent of pain.
Axel low-blowed Punk and handcuffed him to the ring ropes, allowing Heyman to smack the Second City Saint repeatedly with a kendo stick prior to breaking down in tears on the entrance ramp.
Plus, The Miz and Cody Rhodes won a tag-team match after the twinkle-toed Fandango walked out on his partner Damien Sandow, while Titus O'Neill saw off Jack Swagger.
And Brie Bella, thanks to help from sister Nikki and Eva Marie, edged Natalya - before Divas Champion AJ Lee proclaimed that none of the females in her division could lace her boots.
Catch WWE Night of Champions, from 1am, Sunday, September 15 (Monday morning) on Sky Sports Box Office.