WWE Smackdown: Randy Orton obliterates The Miz and Shield win again
Randy Orton continued to make The Miz's life a misery with a bruising display on WWE Smackdown.
Last Updated: 28/09/13 5:01pm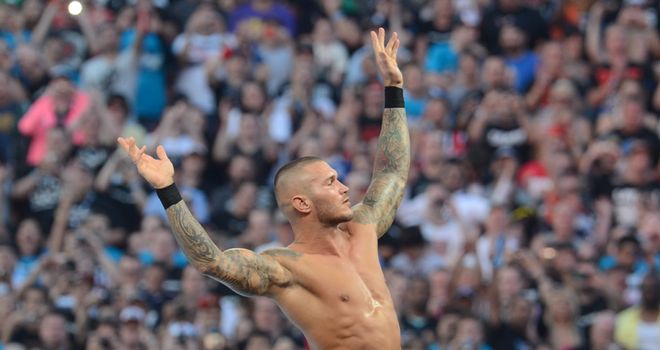 Orton desecrated the Awesome One on Raw a couple of weeks ago in his hometown of Cleveland and did the same in Milwaukee on Friday evening in not one but TWO matches.
The Viper suffered a disqualification loss in his initial bout with The Miz after failing to back away from the Ohioan when requested to by the referee, but with Triple H deeming that Orton had got the duel curtailed on purpose, he quickly sanctioned another contest.
The Game included a No Disqualification stipulation in match two and the Apex Predator proceeded to completely batter his opponent before picking up the win with his signature RKO manoeuvre.
Elsewhere, World Heavyweight Champion Alberto Del Rio vanquished R-Truth, but was made to pay for trying to compound his adversary's woe by locking in the Cross Armbreaker post-bout.
The Essence of Excellence's Battleground foe Rob Van Dam rushed to the ring with steel chair in hand and used the weapon to administer a torrent of pain on Del Rio - prior to learning that the duo's title match in October would be fought under Hardcore Rules.
Brawl
Van Dam also competed in Wisconsin, in a six-man tag match that was made after Dolph Ziggler and Dean Ambrose's United States Championship encounter had ended in a brawl.
Ziggler, Van Dam and Kofi Kingston locked horns with Ambrose and his comrades, Seth Rollins and Roman Reigns - but it was the Shield celebrating at the end of the official contest when Rollins kicked Kingston, and Ambrose pinned the Boom Squad General.
The Real Americans bested The Prime Time Players, Santino Marella overcame Heath Slater and, in his first match on the blue brand, the eerie Bray Wyatt knocked off Zack Ryder in front of his muscular followers Luke Harper and Erick Rowan.
Paul Heyman, meanwhile, vowed that the beating CM Punk received at the hands of Ryback and Curtis Axel on Raw would be replicated at Battleground when the Second City Saint meets the Human Wrecking Ball.
Plus, AJ Lee, aided by new bodyguard Tamina, defeated Cameron, while the entire Rhodes Family - Cody Rhodes, Dusty Rhodes and Goldust - accepted Triple H's invitation to appear on the next edition of Monday Night Raw.
Don't miss WWE Battleground, from 1am, Sunday, October 6 on Sky Sports 3.