WWE Raw: Cody Rhodes and Goldust handed chance to earn jobs back
Cody Rhodes and Goldust will be re-hired if they beat Seth Rollins and Roman Reigns at Battleground.
Last Updated: 01/10/13 3:38pm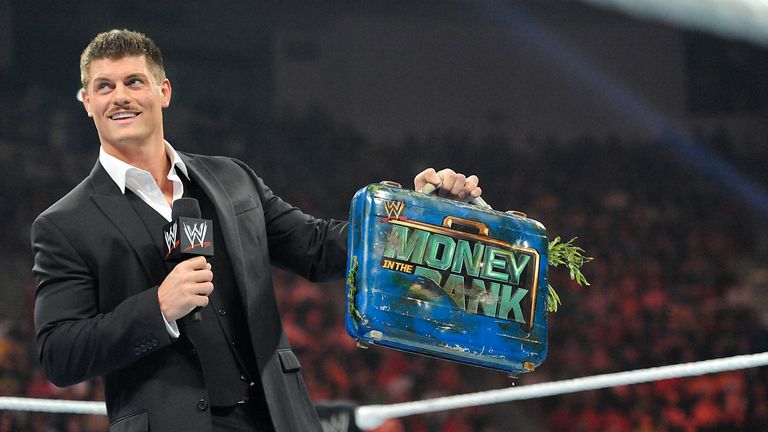 Dusty Rhodes, Cody Rhodes and Goldust were invited to Monday Night Raw by WWE Chief Operating Officer Triple H and quickly informed that all three of them could be in employment at the end of this weekend's pay-per-view.
The Game made a match for Sunday, pitting Cody and Goldust against Shield stars Seth Rollins and Roman Reigns with the carrot that if the Rhodes boys win they will be rehired as members of the roster.
However, Triple H also revealed that should Rhodes and Goldust be vanquished they would never work for the WWE again and that their father, Dusty, would lose his position within the company's developmental system.
Dusty accepted the challenge but he and his offspring were soon given a first-hand example of what the Shield members are capable of when Reigns, Rollins and Dean Ambrose administered a beating.
The black-clad rebels were also victorious in a six-man tag match versus Dolph Ziggler and The Usos, while Alberto Del Rio - who will defend his World Heavyweight Title against RVD at Battleground - overcame Zack Ryder.
Music
CM Punk, meanwhile, kicked off the show in Biloxi, Mississippi by addressing his Sunday evening clash with Ryback, before beating another meaty Superstar, Big E Langston, courtesy of his trademark GTS.
The Second City Saint's entrance music later distracted Intercontinental Champion Curtis Axel who proceeded to be beaten by R-Truth, while Punk also appeared again in the Magnolia State to gate-crash Paul Heyman and Ryback's tender moment.
Heyman "proposed" to the Human Wrecking Ball in an attempt to officially swear him in as the next Paul Heyman Guy, but as Ryback was about to respond, Cult of Personality blared out.
Punk emerged from the crowd and, after conning Heyman and Ryback with a feigned injury, lashed out at his two enemies with a kendo stick, before giving the onrushing Axel the same treatment.
Randy Orton and Daniel Bryan will battle for possession of the WWE Championship in Buffalo on Sunday night, though they were set for a non-physical confrontation on Raw following weeks of animosity.
However, when Orton insulted Bryan's fiancée Brie Bella - who had earlier bested Alicia Fox in Divas action - the submission specialist flipped and tried to batter the Viper, but he was quickly desecrated by Apex Predator in full view of his wife-to-be.
Plus, Kofi Kingston defeated Fandango; Bray Wyatt vowed to obliterate the entire WWE locker room; debuting bullfighters Los Matadores clobbered 3MB's Heath Slater and Jinder Mahal; and Santino Marella pinned Antonio Cesaro.