WWE Raw: Manchester sees CM Punk and Daniel Bryan versus The Shield
CM Punk, Daniel Bryan, John Cena and more were in action as Monday Night Raw hit Manchester.
Last Updated: 14/11/13 12:51pm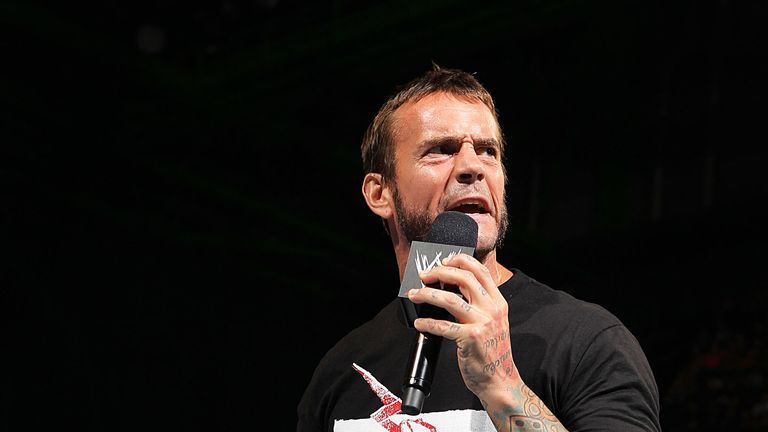 WWE Tag Team Champions Cody Rhodes and Goldust kicked things off, defeating WWE Titlist Randy Orton via count-out after the Viper had scarpered from the ring and failed to return before the referee called 10.
However, Orton was then punished by Big Show - the man he will defend his strap against at Survivor Series - with the World's Largest Athlete sending the Apex Predator thundering through the announce table courtesy of a chokeslam.
John Cena, meanwhile, fought both Jack Swagger and Antonio Ceasro - but only after the Real Americans' outspoken manager, Zeb Colter, had berated the crowd's teeth and love of Rowan Atkinson creation Mr Bean.
Cena, though, dealt with the numbers disadvantage to pick up the victory - forcing Swagger to tap out to the STF - before having Big E Langston to thank for quelling a post-match attack on him by Survivor Series opponent Alberto Del Rio.
Langston's reward for interjecting himself into Cena and Del Rio's beef was a match with the Mexican Aristocrat, which he lost after being caught in his rival's Cross Armbreaker submission manoeuvre.
Salivating
But it was the evening's main event - Daniel Bryan and CM Punk versus The Shield's Dean Ambrose, Seth Rollins and Roman Reigns - that left the British audience salivating, with the bout ending in a 12-man scuffle.
Bryan and Punk had gathered notable momentum against the black-clad renegades but before they could strike the final blow, the lights cut out - and when they were turned back on, The Wyatt Family were standing in the squared circle.
The barbarians from the backwoods clashed with Ambrose, Rollins and Reigns at first - much to the delight of the WWE Universe - though they swiftly joined forces and attempted to assault Punk and Bryan.
However, the outnumbered former WWE Champions - who will take on Luke Harper and Erick Rowan at Survivor Series - were aided by Goldust, Cody Rhodes and Jimmy and Jey Uso, and the crowd favourites soon sent their six adversaries fleeing.
Elsewhere - on a night where Kane, Vickie Guerrero and Brad Maddox bickered over who was in control with Triple H and Stephanie McMahon on vacation - Damien Sandow outfoxed Kofi Kingston, Fandango vanquished Tyson Kidd, and Tamina overpowered Nikki Bella.
Plus, Paul Heyman disowned Ryback following the Human Wrecking Ball's loss to R-Truth; saw another of his charges, Curtis Axel, keep hold of the Intercontinental Title by beating Dolph Ziggler - and was then attacked by former friend Punk with a kendo stick.
Meanwhile, 3MB's decision to dress in British flag-inspired garb and call themselves The Union Jacks backfired as they were conquered by Los Matadores stars Diego and Fernando and Santino Marella.
Survivor Series booking details
WWE Survivor Series will be shown on Sky Sports Box Office (channel 743) and Sky Sports HD Box Office (channel 752) at 1am, Sunday, November 24 (Monday morning).
WWE Survivor Series will be repeated on Sky Sports Box Office (channel 743) BUT NOT Sky Sports HD Box Office (channel 752) between 9am, Monday, November 25 and 9pm, Saturday, November 30. Repeats showing will last for three hours.
The event is priced at £14.95 for UK customers, €21.95 for customers in the Republic of Ireland
You can order WWE Survivor Series from Monday, November 18 by pressing the Box Office button on your remote. Select 'sports & events' and follow the on-screen instructions.
Viewers can call 08442 410 888 to book WWE Survivor Series from Friday, November 15. (There may be an additional charge for telephone bookings).
You can also book WWE Survivor Series online from Monday, November 18 by visiting this link: https://my.sky.com/orderboxoffice/
Cable customers should contact their local cable operator.