WWE Smackdown: Wyatt Family outwitted and John Cena put through table
The Wyatt Family were outwitted and John Cena was sent through a table on Friday Night Smackdown.
Last Updated: 25/11/13 10:05am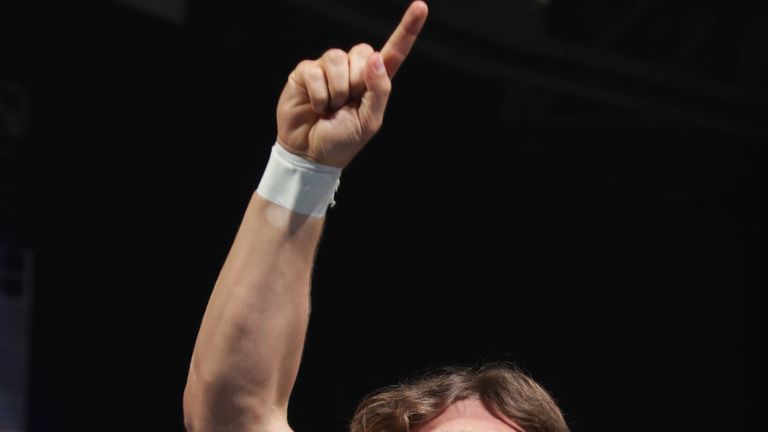 The former WWE champions will tackle Luke Harper and Erick Rowan in a titanic tag-team tussle at Survivor Series, so it came as no surprise when the brutes from the backwoods interfered in the Best and the Beard's blue-brand encounter.
Punk and Bryan were on the verge of defeating Curtis Axel and Ryback, with the more hirsute member of the partnership administering the "Yes!" Lock on the Human Wrecking Ball - but then darkness fell.
However, when the lights were reactivated and Harper, Rowan and Wyatt Family leader, Bray Wyatt, were stood in the ring looking to inflict some damage on Punk and Bryan, the fan favourites were nowhere to be seen.
The Wyatts, therefore, opted to beat up Axel and Ryback instead but just as the creepy trio had dealt with the dastardly duo, Punk and Bryan re-emerged to batter their new foes and gain a psychological advantage ahead of November's pay-per-view.
Wyatt and Harper were all smiles earlier in the evening, though, after knocking off The Usos, while The Great Khali overcame the returning Hunico and Camacho in a handicap match, and R-Truth and The Prime Time Players bested the Union Jacks.
Natalya, meanwhile, saw her hopes of plucking AJ Lee's Divas Title on Main Event scuppered by the Black Widow's henchwoman Tamina, but gained a modicum of revenge on Smackdown by defeating the powerhouse via the Sharpshooter.
The Bella Twins - who guested on Sky Sports' children's show Game Changers on Saturday morning - lost to Total Divas cast-mates The Funkadactyls, with Naomi settling the contest by pinning Nikki after hitting the Rear View.
Plus, World Heavyweight Champion John Cena beat Survivor Series opponent Alberto Del Rio in an arm-wrestling battle - TWICE - before he was sent thundering through a table by the seething Mexican.
Survivor Series booking details
WWE Survivor Series will be repeated on Sky Sports Box Office (channel 743) BUT NOT Sky Sports HD Box Office (channel 752) between 9am, Monday, November 25 and 9pm, Saturday, November 30. Repeats showing will last for three hours.
The event is priced at £14.95 for UK customers, €21.95 for customers in the Republic of Ireland.
You can order WWE Survivor Series from Monday, November 18 by pressing the Box Office button on your remote. Select 'sports & events' and follow the on-screen instructions.
Viewers can call 08442 410 888 to book WWE Survivor Series from Friday, November 15. (There may be an additional charge for telephone bookings).
You can also book WWE Survivor Series online from Monday, November 18 by visiting this link: https://my.sky.com/orderboxoffice/
Cable customers should contact their local cable operator.