WWE Survivor Series: Randy Orton overcomes Big Show in main event
Read what happened at Sunday's Survivor Series as Randy Orton collided with Big Show for the WWE Title.
Last Updated: 25/11/13 2:24pm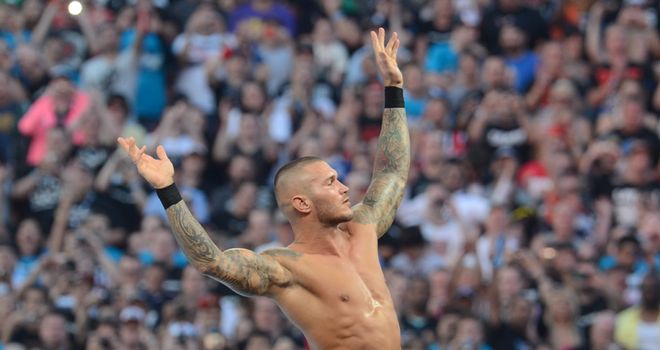 Triple H, Stephanie McMahon and Kane appeared on the entrance ramp during Big Show's WWE Title match with Randy Orton, and their decision NOT to intervene in the contest cost the giant.
Big Show won his maiden WWE Championship at Survivor Series in 1999 and looked primed to capture the gold once more at the 27th showing of the event in Boston's TD Garden on Sunday evening.
But after knocking Orton out and readying him for the pinfall, the World's Largest Athlete's gaze was averted towards the Authority's presence underneath the TitanTron and anticipating an attack, the veteran forgot about the now not-so-stricken Viper.
The WWE Titlist took full advantage, too, hitting his gargantuan rival with an RKO and a punt to the head to preserve his grip on the strap which he won at Hell in a Cell in a pulsating clash with submission specialist Daniel Bryan.
However, Orton's celebrations were cut short by World Heavyweight Champion John Cena - who had retained his garland earlier by besting Alberto Del Rio - with both belt holders staring each other down.
Click here to order the WWE Survivor Series repeat
Prevailed
Elsewhere, CM Punk and Daniel Bryan's union proved successful as they knocked off Wyatt Family brutes Luke Harper and Erick Rowan after an epic, 17-minute slugfest in Massachusetts.
The former WWE Champions were brutalised by their hefty foes during large chunks of the encounter, but prevailed when Punk cracked Harper with a Go To Sleep following Bryan's assault on Rowan.
The Shield's Roman Reigns made headlines, too, after emerging as the sole survivor from the evening's five-on-five duel and eliminated FOUR of his adversaries with crunching spears to boot.
The black-clad powerhouse vanquished Jimmy Uso, Cody Rhodes, Goldust and, finally, Rey Mysterio to secure victory for his all-star squad, which also included stablemates Dean Ambrose and Seth Rollins as well as The Real Americans.
Natalya, meanwhile, collected the decisive fall in the seven-on-seven Divas scuffle, forcing AJ Lee to submit to the Sharpshooter, plus Big E Langston kept his Intercontinental Title by clobbering Curtis Axel.
And a shaven-headed Mark Henry made a triumphant return from a hamstring injury - answering Ryback's open challenge and then obliterating the Human Wrecking Ball with a World's Strongest Slam.
Booking details
You can catch a repeat of the WWE Survivor Series on Sky Sports Box Office (channel 743) BUT NOT Sky Sports HD Box Office (channel 752) between 9am, Monday, November 25 and 9pm, Saturday, November 30. Repeats showing will last for three hours.
The event is priced at £14.95 for UK customers, €21.95 for customers in the Republic of Ireland.
You can order WWE Survivor Series by pressing the Box Office button on your remote. Select 'sports & events' and follow the on-screen instructions.
Viewers can call 08442 410 888 to book WWE Survivor Series from Friday, November 15. (There may be an additional charge for telephone bookings).
You can also book WWE Survivor Series online from Monday, November 18 by visiting this link: https://my.sky.com/orderboxoffice/
Cable customers should contact their local cable operator.