WWE Raw: John Cena and Randy Orton set for crunching TLC showdown
The World Heavyweight and WWE Titles will soon be held by one man. Read our Raw report to find out why...
Last Updated: 26/11/13 4:16pm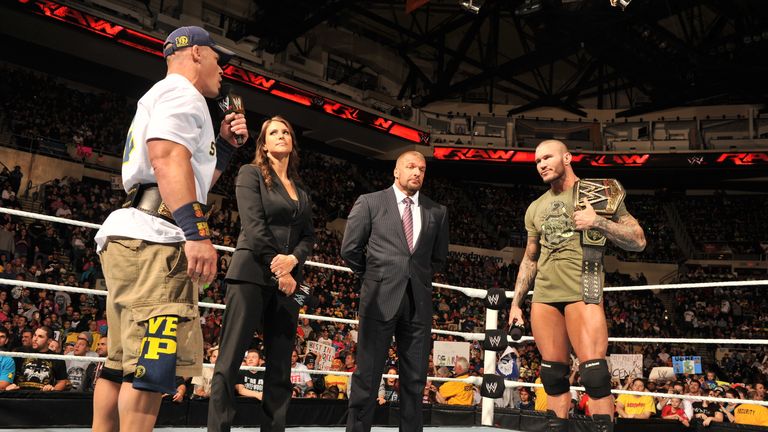 Randy Orton and John Cena held their titles aloft during a staredown at the end of Survivor Series and, 24 hours later, the WWE hierarchy decreed that The Viper and The Champ would put their gold on the line against each other at the Tables, Ladders and Chairs event in December.
World Heavyweight Champion Cena challenged WWE Champion Orton to a clash of the titans and The Authority accepted on the Apex Predator's behalf, announcing that both belts would be on the line in a Tables, Ladders and Chairs duel in Houston .
Cena and Orton also took part in Monday evening's main event in New York, with the former teaming with Big Show and the latter banding with Mexico's Greatest Export, Alberto Del Rio.
The Cenation Leader secured his pairing the win, forcing Del Rio to submit after Orton had been speared by the World's Largest Athlete, but it was the Viper that ended the show in the ascendancy.
Garlands
Cena managed to fend off a post-match assault from Del Rio but was then sucker-punched by the Apex Predator, who floored the Chain Gang Soldier with the WWE Title and then held up both his and his opponent's garlands.
The Shield figured prominently on the red brand, too, quashing Rey Mysterio, Cody Rhodes and Goldust in six-man tag-team action and then crushing CM Punk after the Second City Saint and Daniel Bryan had combatted The Wyatt Family.
Dolph Ziggler and Damien Sandow, meanwhile, engaged in a Broadway Brawl - replete with drums, electric guitars and keyboards - when Raw emanated from Memphis seven days previously, and they cracked each other with weaponry again in Uniondale.
The Showoff and The Duke of Decency, wrestling in a bout coined a 'Hamptons Hardcore Match', utilised fire extinguishers, microphones and more before Sandow whacked Ziggler with an oar and pinned him on top of a rubbish bin.
Plus, the massive tandem of Mark Henry and Big E Langston obliterated Curtis Axel and Ryback; The Miz battled past Kofi Kingston; Xavier Woods vanquished Heath Slater; and the Total Divas saw off the True Divas in a Survivor Series rematch.
Survivor Series booking details
You can catch a repeat of the WWE Survivor Series on Sky Sports Box Office (channel 743) BUT NOT Sky Sports HD Box Office (channel 752) between 9am, Monday, November 25 and 9pm, Saturday, November 30. Repeats showing will last for three hours.
The event is priced at £14.95 for UK customers, €21.95 for customers in the Republic of Ireland.
You can order WWE Survivor Series by pressing the Box Office button on your remote. Select 'sports & events' and follow the on-screen instructions.
Viewers can call 08442 410 888 to book WWE Survivor Series from Friday, November 15. (There may be an additional charge for telephone bookings).
You can also book WWE Survivor Series online from Monday, November 18 by visiting this link: https://my.sky.com/orderboxoffice/
Cable customers should contact their local cable operator.