WWE Raw: Randy Orton clatters Stephanie McMahon during frantic finale
Randy Orton irked The Authority on Raw, while CM Punk was clobbered by The Shield's powerhouse.
Last Updated: 10/12/13 5:01pm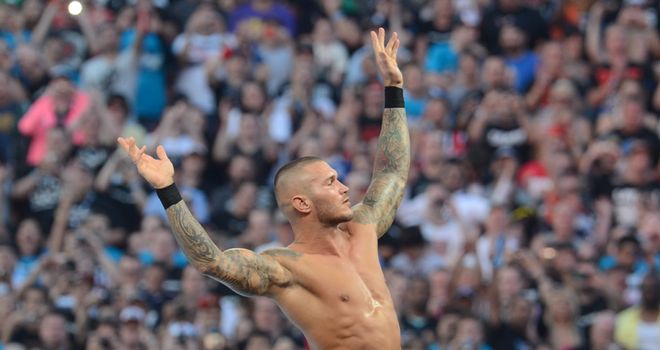 The Viper, who will fight John Cena at Sunday's TLC extravaganza for the title of Undisputed Champion, has been the Authority's golden boy ever since he won the WWE Championship this autumn.
But after a fracas at the end of Raw resulted in him accidentally flooring Stephanie McMahon and receiving a Pedigree as punishment from her husband Triple H, the Apex Predator may have riled his bosses at exactly the wrong time.
Orton and World Heavyweight Titlist Cena were joined in the ring by 20 former champions - including Christian, Bret Hart and Booker T - towards the end of Monday evening's show in Seattle to deliver their final words before Sunday's showdown.
Tensions soon spilled over, though, with Triple H, CM Punk, Shawn Michaels and Daniel Bryan all coming to blows, and Orton careering into McMahon and then slithering away after feeling the full force of the Cerebral Assassin's wrath.
While Orton and Cena compete alongside a dangerous trifecta of tables, ladders and chairs in Houston on Sunday night, Bryan and Punk will each face a nefarious threesome of their own.
Rejecting
Submission specialist Bryan will tackle the Wyatt Family, while Chicagoan Punk will combat The Shield, and the erstwhile WWE Champions were left with plenty to ponder by their foes on Raw.
Bryan - who beat Fandango in the red brand's first match - was told by Bray Wyatt that after rejecting overtures to enter The Wyatt Family, he would experience the backwoods brutes' anger this weekend in the Toyota Center.
Punk, meanwhile, registered victory over black-clad rebel Dean Ambrose - just as he had done on Smackdown three days earlier - before being flattened by a gut-wrenching spear from Shield muscleman Roman Reigns.
Elsewhere, on the night of the 2013 Slammy Awards, Damien Sandow beat Santino Marella; Sin Cara knocked off Alberto Del Rio for a second straight week; and Natalya forced Tamina Snuka to submit to the Sharpshooter.
The quartet of Rey Mysterio, Big Show and WWE Tag Team Champions Cody Rhodes and Goldust vanquished The Real Americans, Ryback and Curtis Axel, while The Miz bested Kofi Kingston - and suffered a post-match Trouble in Paradise as retribution.
Plus, an irate Brodus Clay made light work Xavier Woods, and Luke Harper and Erick Rowan - two of Bryan's opponents at WWE TLC - defeated The Usos in a size versus speed confrontation.
Watch WWE Tables, Ladders and Chairs, 1am, Sunday (Mon), Sky Sports 4.