WWE Smackdown: Big E Langston sends The Shield into retreat
Two of WWE's powerful up-and-comers, Roman Reigns and Big E Langston, almost clashed on Smackdown.
Last Updated: 22/12/13 5:34pm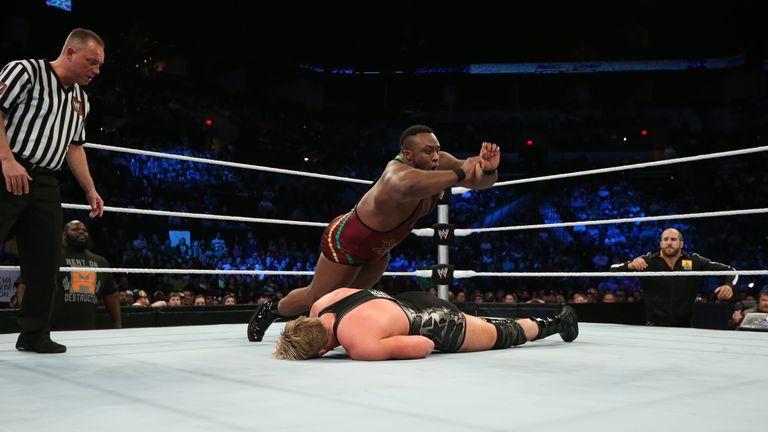 Reigns was the star of Survivor Series, eliminating four men to emerge as the sole survivor from a five-on-five tag match, while Langston recently won his first title in WWE by capturing the Intercontinental Championship from Curtis Axel.
And the muscular grapplers appear to be on a collision course if the culmination to the blue brand's main event in San Antonio, Texas is anything to go by.
Reigns and his Shield comrades, Dean Ambrose and Seth Rollins, fought John Cena and CM Punk in a three-on-two handicap encounter, but suffered defeat when their overzealous attacks caused them to be disqualified.
However, the black-clad rebels were not to be quelled and proceeded to dish out a brutal post-match attack, including a spear and a triple powerbomb to Cena, who lost to Randy Orton at TLC on Sunday evening.
That was until Langston - a victor over Real American Jack Swagger at the start of Smackdown - rushed from the locker room, forced the Hounds of Justice to back off, and caught Reigns' eye.
Daniel Bryan was scheduled to team with Cena and Punk but was removed from the match following a backstage assault from The Wyatt Family, who had earlier beaten Tag Team Champions Cody Rhodes and Goldust in a non-title duel.
Elsewhere, Brie Bella overcame Tamina - before shoving Divas Champion AJ Lee to the ground straight afterwards; Sin Cara's rise continued as he edged 3MB's Scottish member Drew McIntyre; and the twinkle-toed Fandango saw off Kofi Kingston.
Plus, Tensai bested his ex-partner Brodus Clay courtesy of a distraction from Xavier Woods and the Funkadactlys, while Damien Sandow declared the WWE Universe underserving of Christmas - and then pinned The Miz.
Watch Raw and Smackdown, every week on Sky Sports.