WWE Smackdown: Shield members compete in singles matches in Texas
One Shield member was victorious and two lost on a thrill-a-minute episode of Friday Night Smackdown.
Last Updated: 30/12/13 12:04pm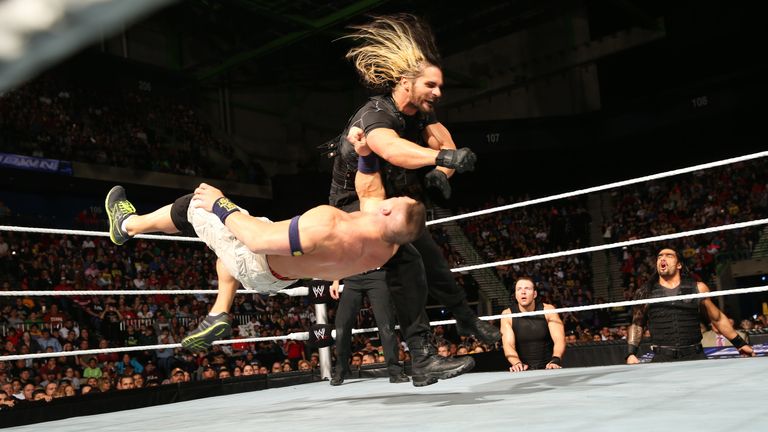 The black-clad renegades interrupted John Cena's speech at the start of the show in Texas, leading to Director of Operations, Kane, placing them in bouts with three of WWE's most powerful performers.
Ambrose battled Intercontinental Champion Big E Langston, Reigns met the monstrous Mark Henry, while Rollins combatted Cena in the evening's main event - and the Shield went on to claim mixed results.
Reigns - the star of November's Survivor Series pay-per-view - floored the World's Strongest Man with a combination of a Superman Punch and a spear, but Ambrose was outmuscled by Langston and Rollins fell victim to The Cena's patented Attitude Adjustment.
Elsewhere, Luke Harper and Erick Rowan defeated The Usos in a pulsating affair, while The Prime Time Players got the better of former Paul Heyman guys, Ryback and Curtis Axel.
Cody Rhodes has been competing in tag-team tussles over recent months, too, and his return to singles action ended badly as he was conquered by Antonio Cesaro - but there was a victory for fan favourite Daniel Bryan, who proved too skilled for Damien Sandow.
Plus, WWE World Heavyweight Champion Randy Orton displayed his vicious streak, first by besting Dolph Ziggler in a high-octane match and then by hurling the Showoff into the announce table and clattering his head into the mat courtesy of a DDT.
Watch Raw and Smackdown, every week on Sky Sports.