WWE Smackdown: Kane clobbers CM Punk; Bray Wyatt has words for Daniel Bryan
CM Punk felt Kane's wrath on Smackdown, while Bray Wyatt had a creepy message for Daniel Bryan.
Last Updated: 21/01/14 3:24pm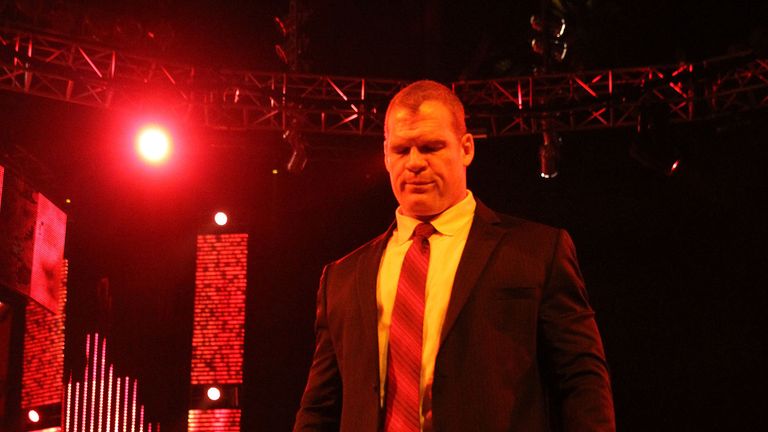 The Devil's Favourite Demon has been pretty reserved since he removed his mask, donned some dapper threads and became WWE's Director of Operations in October.
And the former world champion had his business head on when he addressed CM Punk in the closing stages of Friday Night Smackdown - at least to start with.
Punk strode to the ring in Worcester, Massachusetts to call out The Shield and the New Age Outlaws and both factions promptly emerged, seemingly set to attack the Second City Saint.
However, Kane then appeared and told Dean Ambrose, Seth Rollins, Roman Reigns, Road Dogg and Billy Gunn to leave Punk unharmed as Triple H and Stephanie McMahon wanted the Chicagoan to win the Royal Rumble and main event WrestleMania.
Thunderous
Punk, though, refuted the claim and mocked the Big Red Monster for turning from a feared Superstar into a "corporate sell-out" - and subsequently received a thunderous Choke Slam just before Smackdown went off air.
The New Age Outlaws did not get their hands on Punk, then, but they did defeat Cody Rhodes and Goldust in a non-title tussle following a distraction from Vickie Guerrero.
Elsewhere, Rey Mysterio overcame Alberto Del Rio - before being caught in the Essence of Excellence's Cross Armbreaker - and Naomi bounced her way to victory over AJ Lee's henchwoman, Tamina.
Big E Langston conquered Fandango, and The Usos clobbered The Real Americans during a bout which saw Antonio Cesaro and the wheelchair-bound Zeb Colter clatter into one another.
Plus, Big Show vowed to knock out Brock Lesnar during their singles clash at the Royal Rumble, while Bray Wyatt had an eerie message for Daniel Bryan following his exit from the Wyatt Family on Raw, saying that the submission specialist would now "burn with the saints".
Royal Rumble booking details
WWE Royal Rumble will be shown on Sky Sports Box Office (channel 743) and Sky Sports HD Box Office (channel 752) at 1am on Sunday, January 26 (Monday morning).
WWE Royal Rumble will be repeated on Sky Sports Box Office (channel 743) BUT NOT Sky Sports HD Box Office (channel 752) between 9am, Monday, January 27 and 9pm, Saturday, February 1. Repeats showing will last for three hours.
The event is priced at £14.95 for UK customers, €21.95 for customers in the Republic of Ireland.
You can order WWE Royal Rumble from Friday, January 17 by pressing the Box Office button on your remote. Select 'sports & events' and follow the on-screen instructions.
Viewers can call 08442 410 888 from Friday, January 17 to book WWE Royal Rumble. (There may be an additional charge for telephone bookings).
You can also book WWE Rumble online from Friday, January 17 by visiting this link: https://my.sky.com/orderboxoffice/
Cable customers should contact their local cable operator.