Royal Rumble 2014: Read our our report of WWE's big event in Pittsburgh
Who is WWE World Heavyweight Champion? Who is going to 'Mania XXX? Read on to find out...
Last Updated: 28/01/14 12:44pm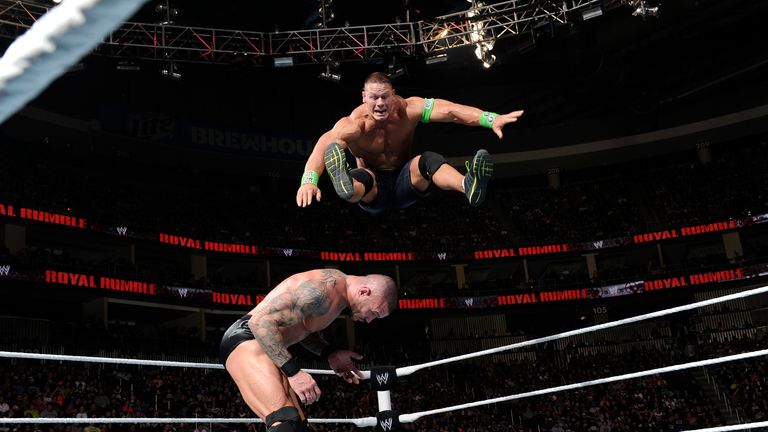 The Animal secured himself a guaranteed WWE World Heavyweight Championship match at April's big show in New Orleans by winning an action-packed Royal Rumble on Sunday evening.
Batista, who entered the bout as the 28th of 30 entrants, joined Shield star Roman Reigns, the returning-from-injury Sheamus and Authority questioner CM Punk in the final four, after the likes of Ryback, Dolph Ziggler, Alberto Del Rio and Big E Langston had been sent packing.
Punk - who began the Rumble match with Seth Rollins - was chucked to the floor by an irate Kane before Reigns removed Sheamus to rack up his 12th elimination of the night - his tally also included stablemates Rollins and Dean Ambrose - breaking the record of 11 set by Kane in 2001.
Reigns then gave Batista - competing in his first WWE match in almost four years - an almighty scare, but the Animal eventually rubberstamped his 'Mania berth by causing the former gridiron player to tumble over the top rope.
CLICK HERE TO ORDER A WWE ROYAL RUMBLE REPEAT
The powerhouse's triumph was just one of the major stories to unfold during the annual 30-man melee, with Kofi Kingston's daredevil antics, surprise appearances from Kevin Nash, commentator JBL and NXT strongman Alexander Rusev - and no appearance from Daniel Bryan - hogging the headlines.
Impact
Bryan, though - whose name was chanted by the Pittsburgh crowd for the entirety of the evening -was in action in the opening bout, conquered by Bray Wyatt after the Eater of Worlds had turned the submission specialist's suicide dive into a Sister Abigail against the barrier.
The Wyatt Family leader made a big impact later in the show, too, when he and his allies, Luke Harper and Erick Rowan, distracted John Cena during the Chain Gang Soldier's WWE World Heavyweight Title clash with Randy Orton.
The interference allowed Orton to floor his rival with an RKO and retain the strap he grasped at Tables, Ladders and Chairs in December, while Wyatt, Harper and Rowan compounded Cena's misery by handing him a vicious post-bout beating.
Elsewhere, Brock Lesnar obliterated Big Show - before, during and after their scheduled match.
The Anomaly rushed to the ring and battered The World's Largest Athlete with fists and a steel chair prior to the bell ringing and, once it had been dinged, flattening his enemy with an F5 to pick up the win in under two minutes.
Lesnar, wasn't finished there, though, and proceeded to whack Big Show with a mind-boggling 20 chair shots, before he was led away by advocate Paul Heyman and his stricken opponent received medical attention.
Royal Rumble repeat booking details
WWE Royal Rumble will be repeated on Sky Sports Box Office (channel 743) BUT NOT Sky Sports HD Box Office (channel 752) between 9am, Monday, January 27 and 9pm, Saturday, February 1. Repeats showing will last for three hours.
The event is priced at £14.95 for UK customers, €21.95 for customers in the Republic of Ireland.
You can order WWE Royal Rumble from Friday, January 17 by pressing the Box Office button on your remote. Select 'sports & events' and follow the on-screen instructions.
Viewers can call 08442 410 888 from Friday, January 17 to book WWE Royal Rumble. (There may be an additional charge for telephone bookings).
You can also book WWE Rumble online from Friday, January 17 by visiting this link: https://my.sky.com/orderboxoffice/
Cable customers should contact their local cable operator.