WWE Raw: Chicago fans go wild for CM Punk - but Second City Saint does not appear
CM Punk was cheered but did not appear on Raw in Chicago, while Daniel Bryan was flattened by Triple H.
Last Updated: 06/03/14 8:51am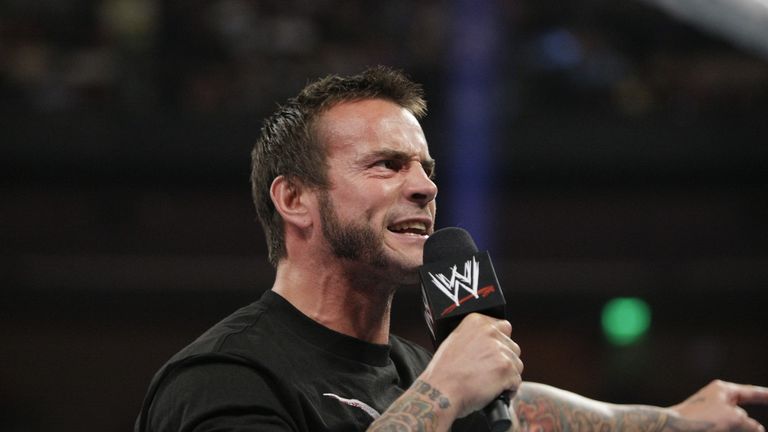 Punk has not been seen on WWE television since January's Royal Rumble event but when Raw headed to his town - Chi-Town - there was real hope amongst fans that he would show his face.
The supporters in the Windy City were red-hot in their fervour and chanted for their hero from the moment Raw came on air - but they were soon chilled via a cruel joke from Paul Heyman.
Heyman, Punk's friend-turned-foe, emerged on the ramp whilst the Voice of the Voiceless' entrance music was in full flow and the fired-up crowd anticipated the return of a man who once held the WWE Championship for 434 days.
The mad scientist adopted Punk's familiar cross-legged pose in the ring and told the WWE Universe that they were to blame for the Chicago-born grappler's non-appearance - before switching his attentions to The Undertaker.
Heyman vowed to garner revenge for Punk's loss to the Phenom at last year's WrestleMania by - courtesy of The Beast Incarnate, Brock Lesnar - finally conquering the Deadman's unblemished streak at the Show of Shows, which currently stands at 21-0.
And The Undertaker got a glimpse of what he will be in for when he battles Lesnar in New Orleans on Sunday, April 6, when the Anomaly sent Mark Henry - who had previously been injured by the monster from Minnesota - crashing through the announce desk.
The Lesnar-instigated carnage kicked off Raw and there was an all-out brawl to close the show, which culminated in Daniel Bryan receiving a Batista Bomb and a Pedigree - and seemingly no closer to his big WrestleMania wish.
Unworthy
Bryan had hijacked proceedings earlier in the evening, stating that he would not let the programme continue until he was granted a contest with WWE Chief Operating Officer Triple H in Louisiana.
The Game refused, brandishing the submission specialist an unworthy opponent - but that did not stop him pummelling Bryan with his patented manoeuvre following the Seattle star's main-event match with Batista.
The bearded warrior and The Animal engaged in a gripping clash but it came to an end, via disqualification, when a watching WWE World Heavyweight Champion Randy Orton battered Bryan at ringside.
The Viper's interjection caused a scrum between himself, Bryan and Batista, which was punctuated by Triple H's beat-down of Bryan and a proclamation from the Cerebral Assassin that the "Yes!" shouter's ambitions of meeting him at 'Mania were "fantasy".
Elsewhere, The Usos prised the WWE Tag Team Championships from the New Ague Outlaws to earn their maiden reign with the straps, and Dolph Ziggler overcame Alberto Del Rio after Mexico's Greatest Export was distracted by Raw guest host, Breaking Bad actor Aaron Paul.
There was plenty of dissension between teams, too.
The Real Americans, Cesaro and Jack Swagger, almost came to blows - but eventually hugged it out - after handing each other disqualification losses in singles duels with Intercontinental Champion Big E.
But The Shield may be on the verge of complete disarray, following Seth Rollins' decision to abandon his comrades, Dean Ambrose and Roman Reigns, in the midst of their rematch with The Wyatt Family, an encounter the black-clad rebels lost when Bray Wyatt hit Ambrose with Sister Abigail.
Plus, Sheamus vanquished Christian with a devastating Brogue Kick; Emma and Santino Marella united to see of Fandango and Summer Rae; and The Bella Twins got the better of Alicia Fox and Aksana.
Missed Monday Night Raw? Catch it again this Thursday, from 11pm on Sky Sports 2.