WWE Raw: Daniel Bryan granted match with Triple H at WrestleMania XXX in New Orleans
Daniel Bryan WILL meet Triple H at 'Mania - and if he beats him, he WILL fight for the WWE World Heavyweight Title!
Last Updated: 12/03/14 3:34pm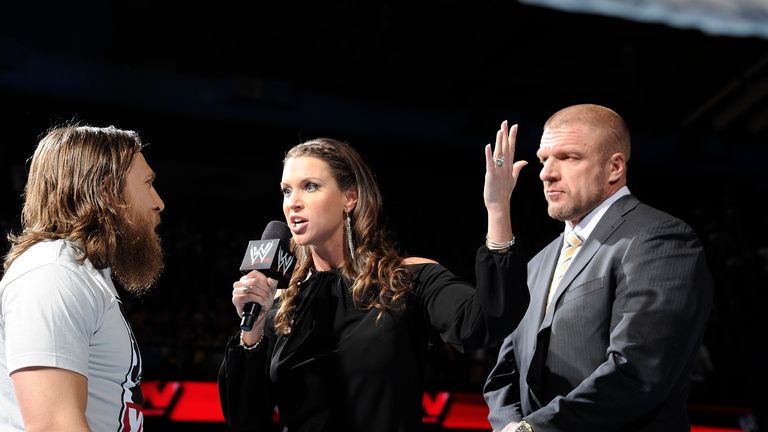 The submission specialist's 'Yes!' Movement took hold of Raw, with the man himself and his adoring supporters entering the ring and refusing to budge until the bearded grappler was granted a match against Triple H at WrestleMania XXX.
And the plan worked.
With no sign of Bryan's brood obeying The Authority's instructions to vacate the squared circle, The Game relented and told the WWE Universe's darling that he would tackle him at the Showcase of the Immortals in New Orleans.
But that was not enough for a man who has been thwarted by the McMahon-Helmsley family ever since he plucked the WWE Championship from John Cena at SummerSlam, and he had one more request.
Bryan asked for Triple H to place him in the WWE World Heavyweight Title match at 'Mania between Randy Orton and Batista should he conquer the Cerebral Assassin earlier in the night - and the Chief Operating Officer uttered his hirsute rival's favourite word: Yes!
Bryan celebrated his double dose of good fortune by earning some more, pinning Orton in the Raw main event, in which he partnered Big Show and The Viper united with his Louisiana enemy Batista.
Announcement
While Bryan fights Triple H and, potentially, for championship gold on April 6, John Cena will square off with the sermon-spewing Bray Wyatt, the man who cost him the WWE World Heavyweight Title at both Royal Rumble and Elimination Chamber.
Cena beat one of Wyatt's muscular mignons, Erick Rowan, in Memphis on Monday night, courtesy of a quick roll-up pin, and was spared a post-bout beatdown form the entire Wyatt Family when Hulk Hogan backed him up.
Aside from supporting Cena, The Hulkster - back in WWE after a seven-year absence - also had a major announcement regarding WrestleMania, which, of course, he will host inside the Mercedes-Benz Superdome.
The six-time WWE Champion revealed that there would be an Andre the Giant Memorial Battle Royal in New Orleans featuring 30 grapplers, with the winner receiving a snazzy trophy.
Big E will also be in that aforementioned multi-man dust-up and the Intercontinental Champion overcame Jack Swagger in Tennessee - before the loser almost came to blows with buddy Cesaro.
Elsewhere, WWE Tag Team Champions The Usos clobbered RybAxel while erstwhile titlists the New Ague Outlaws watched on from the commentary booth; The Shield's Seth Rollins and Roman Reigns edged Cody Rhodes and Goldust; and The Bella Twins bested AJ Lee and Tamina.
Plus, Sheamus and Christian tore strips off each other in a Memphis Street Fight - which ended when the Irishman thundered the Canadian through a drum with a Brogue Kick - and The Undertaker vowed to keep his WrestleMania streak alive when he meets Brock Lesnar.
WrestleMania XXX booking details
WrestleMania XXX will be shown on Sky Sports Box Office (channel 743) and Sky Sports HD Box Office (channel 752) at midnight on Sunday, April 6 (Monday morning).
WrestleMania XXX will be repeated on Sky Sports Box Office (channel 743) BUT NOT Sky Sports HD Box Office (channel 752) between 10am on Monday, April 7 and 10pm on Saturday, April 12.
Repeat showings will last for four hours.
The event is priced at £17.95 for UK customers, €24.95 for customers in the Republic of Ireland.
You can order WrestleMania XXX from Friday, March 28 by pressing the Box Office button on your remote. Select 'sports & events' and follow the on-screen instructions.
Viewers can call 08442 410 888 from Friday, March 28 to book WrestleMania XXX. (There may be an additional charge for telephone bookings).
You can also book WrestleMania XXX online from Friday, March 28 by visiting this link: https://my.sky.com/orderboxoffice/
Cable customers should contact their local cable operator.