WWE Smackdown: John Cena defeats Luke Harper as Bray Wyatt watches on from ringside
The Shield battered and bruised by Kane and the New Age Outlaws
Last Updated: 24/03/14 1:46pm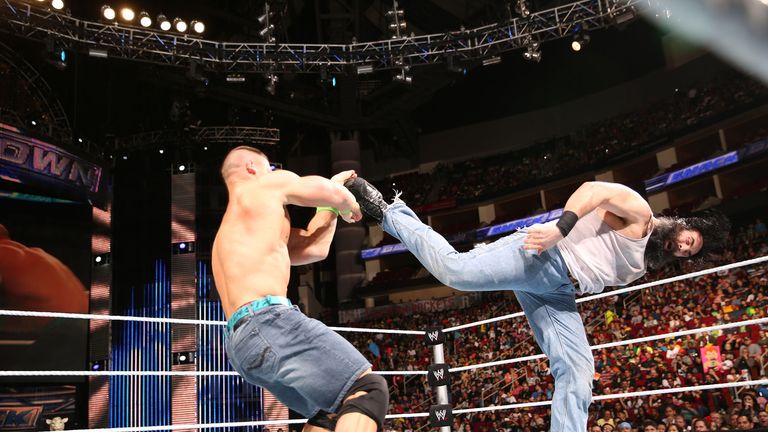 The Cenation Leader declared on Monday Night Raw that he was afraid of the cryptic Wyatt, the man who instigated attacks on him during his WWE World Heavyweight Title matches at Royal Rumble and Elimination Chamber.
But the former world champion gave his WrestleMania XXX opponent something to think about on Smackdown, when he defeated the Eater of World's stablemate Luke Harper in the blue brand's main event.
Dolph Ziggler and Alberto Del Rio picked up wins on Friday evening too, with The Showoff overcoming Damien Sandow, and Mexico's Greatest Export taming Intercontinental Champion Big E.
But Shield stars Dean Ambrose and Seth Rollins were denied the chance to become number-one contenders to the Usos' WWE Tag Team Titles after being battered by Kane and the New Age Outlaws.
Rewarded
The veteran trio assaulted the black-clad renegades during a Fatal Four-Way match that also featured RybAxel, 3MB's Jinder Mahal and Drew McIntyre and The Real Americans.
And the contest's other pairings were duly rewarded for clobbering Ambrose, Rollins and their comrade, Roman Reigns, with Ryback and Curtis Axel, as well as Jack Swagger and Cesaro, handed future title bouts, and 3MB being placed in the Andre the Giant Memorial Battle Royal.
The Miz had that 30-man dust-up on his mind, inviting a number of Superstars who will compete in the match at WrestleMania onto MizTv to engage in a brawl - a melee in which Big Show flexed his muscles and emerged triumphant.
Elsewhere, Los Matadore Fernando collected a victory, pinning Fandango after his bull El Torito had been fired up by Summer Rae's red dress, causing the ballroom enthusiast to divert his gaze.
And things did not get any better for Summer Rae when she teamed with Natalya, as a breakdown in communication led to the glamorous blondes being conquered by Brie and Nikki Bella.
WrestleMania XXX booking details
WrestleMania XXX will be shown on Sky Sports Box Office (channel 743) and Sky Sports HD Box Office (channel 752) at midnight on Sunday, April 6 (Monday morning).
WrestleMania XXX will be repeated on Sky Sports Box Office (channel 743) BUT NOT Sky Sports HD Box Office (channel 752) between 10am on Monday, April 7 and 10pm on Saturday, April 12.
Repeat showings will last for four hours.
The event is priced at £17.95 for UK customers, €24.95 for customers in the Republic of Ireland.
You can order WrestleMania XXX from Friday, March 28 by pressing the Box Office button on your remote. Select 'sports & events' and follow the on-screen instructions.
Viewers can call 08442 410 888 from Friday, March 28 to book WrestleMania XXX. (There may be an additional charge for telephone bookings).
You can also book WrestleMania XXX online from Friday, March 28 by visiting this link: https://my.sky.com/orderboxoffice/
Cable customers should contact their local cable operator.