WWE Raw: The Undertaker rises from a coffin to frighten Brock Lesnar in Brooklyn
The Shield go on the warpath as WrestleMania XXX edges closer
Last Updated: 26/03/14 9:37am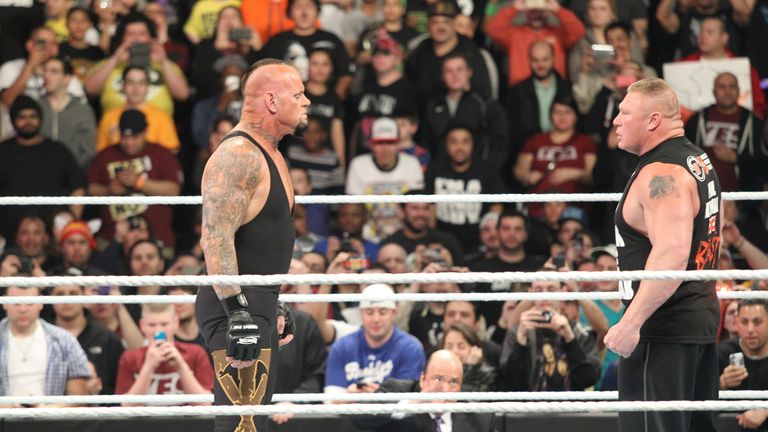 The Beast Incarnate beckoned The Undertaker, the man he will face at WrestleMania XXX, to the ring in the closing stages of Raw, in the hope of softening him up for their showdown in New Orleans.
But The Deadman had the final say by emerging from a coffin, administering a torrent of punches on Lesnar's chest and then hurling him over the casket he had risen from moments earlier.
A parade of druids had carried the tomb to the squared circle once the Anomaly had called out the Phenom, but when Lesnar initially peeked inside it, there was no sign whatsoever of The Undertaker.
The Beast and his advocate, Paul Heyman, opted to criticise the Demon of Death Valley - whose WrestleMania index was extended to 21-0 when he vanquished CM Punk in New Jersey in 2013 - and that's when the legend struck.
The Shield also dished out punishment when Raw hit Brooklyn, battering the two tandems that had battered them on Friday Night Smackdown and cost them a WWE Tag Team Title shot.
Dean Ambrose, Seth Rollins and Roman Reigns firstly caused RybAxel to lose their tussle with Los Matadores - before flattening Ryback with a triple powerbomb in a further sign of their anger.
And once Ambrose and Rollins had bested The Real Americans in a sanctioned bout, they banded with Reigns to send Cesaro thundering through the announce table, reminding Kane and the New Age Outlaws exactly what they will be up against at WrestleMania.
Triple H, meanwhile, partook in a sit-down interview with Michael Cole in the wake of his assault on Daniel Bryan on last week's Raw, and while the chat began serenely enough, it concluded with The Game vowing to squash the #Yes Movement and win the WWE World Heavyweight Championship.
Elsewhere, Batista insulted Stephanie McMahon and speared Randy Orton; Cody Rhodes overcame Fandango; Big Show clobbered Titus O'Neil; and Sin Cara - accompanied to the ring by Scooby Doo - slayed Damien Sandow with an enziguri and top-rope senton.
Christian battled his way to an Intercontinental Title duel with reigning champion Big E after defeating nemesis Sheamus as well as Alberto Del Rio and Dolph Ziggler in a Fatal Four-Way.
AJ Lee was made to pay for walking out of her dust-up with Naomi by being told she will defend her Divas Championship against EVERY female grappler in the company at WrestleMania in the Vickie Guerrero Diva Invitational.
Plus, The Miz was sent tumbling by Hulk Hogan and Sabotage stars Arnold Schwarzenegger and Joe Manganiello; and John Cena - hours after he spoke to Sky Sports News - was tied to the ropes by The Wyatt Family and forced to don a sheep mask.
WrestleMania XXX booking details
WrestleMania XXX will be shown on Sky Sports Box Office (channel 743) and Sky Sports HD Box Office (channel 752) at midnight on Sunday, April 6 (Monday morning).
WrestleMania XXX will be repeated on Sky Sports Box Office (channel 743) BUT NOT Sky Sports HD Box Office (channel 752) between 10am on Monday, April 7 and 10pm on Saturday, April 12.
Repeat showings will last for four hours.
The event is priced at £17.95 for UK customers, €24.95 for customers in the Republic of Ireland.
You can order WrestleMania XXX from Friday, March 28 by pressing the Box Office button on your remote. Select 'sports & events' and follow the on-screen instructions.
Viewers can call 08442 410 888 from Friday, March 28 to book WrestleMania XXX. (There may be an additional charge for telephone bookings).
You can also book WrestleMania XXX online from Friday, March 28 by visiting this link: https://my.sky.com/orderboxoffice/
Cable customers should contact their local cable operator.