WWE NXT: Brodus Clay wants to rip NXT Championship from Britain's Adrian Neville
Xavier Woods feels powerhouse's force at Full Sail University
Last Updated: 04/04/14 11:34am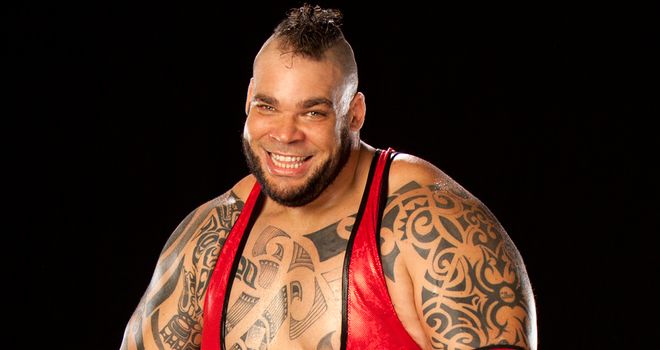 The man formerly nicknamed 'The Funkasaurus' flattened Xavier Woods with a splash from the turnbuckle - and then told NXT Champion Adrian Neville that he was going to snare his strap.
Whether anyone can snare The Ascension's straps is another matter, though, with the NXT Tag Team Champions looking dominant since they plucked the bekts from Neville and Corey Graves in October.
Konnor and Viktor destroyed two local talents on Thursday night - and there was also success for Graves, Tyler Breeze and Emma during an eventful show at Full Sail University in Florida.
Graves overcame a spirited Sami Zayn with a potent knee to the head and his Lucky 13 submission manoeuvre, while Breeze beat Yoshi Tatsu, a week after the Japanese had been defeated by Graves.
Emma, meanwhile, has embraced her goofy side since joining WWE but she outsmarted the Beautiful, Fierce Females in The Sunshine State to collect a big win in the Divas division.
The Australian's quick thinking caused her opponent Sasha Banks to collide with stablemate Charlotte, sending the latter crashing to the floor and the former into the Emma Lock.
Emma then managed to scarper before the BFFs could administer a post-bout beat-down, leaving her trouble free before she enters the Vickie Guerrero Divas Championship Invitational at WrestleMania XXX.
WrestleMania XXX booking details
WrestleMania XXX will be shown on Sky Sports Box Office (channel 743) and Sky Sports HD Box Office (channel 752) at midnight on Sunday, April 6 (Monday morning).
WrestleMania XXX will be repeated on Sky Sports Box Office (channel 743) BUT NOT Sky Sports HD Box Office (channel 752) between 10am on Monday, April 7 and 10pm on Saturday, April 12.
Repeat showings will last for four hours.
The event is priced at £17.95 for UK customers, €24.95 for customers in the Republic of Ireland.
You can order WrestleMania XXX from Friday, March 28 by pressing the Box Office button on your remote. Select 'sports & events' and follow the on-screen instructions.
Viewers can call 08442 410 888 from Friday, March 28 to book WrestleMania XXX. (There may be an additional charge for telephone bookings).
You can also book WrestleMania XXX online from Friday, March 28 by visiting this link: https://my.sky.com/orderboxoffice/
Cable customers should contact their local cable operator.