Monday Night Raw: Evolution reform to batter and bruise The Shield in Alabama
Intercontinental Championship Tournament kicks off in style
Last Updated: 16/04/14 9:31am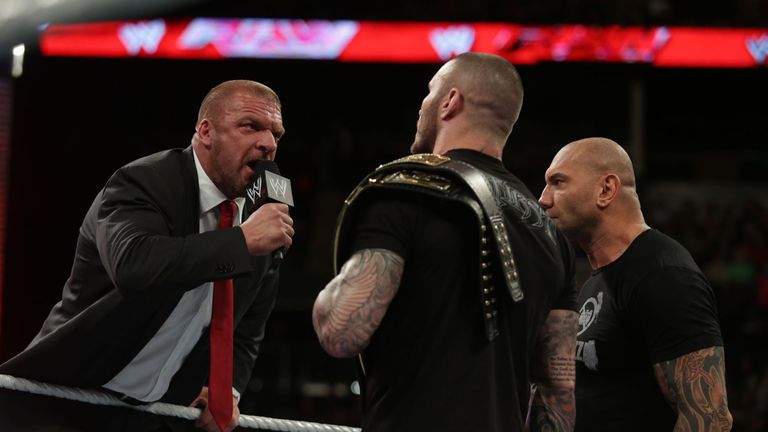 Triple H, Randy Orton and Batista ran roughshod over their rivals in the early-to-mid 2000s as Evolution, and the three grapplers joined forces again on Monday night in Alabama to silence The Shield.
The Game, The Viper and The Animal were bludgeoned by Dean Ambrose, Seth Rollins and Roman Reigns on the previous edition of WWE's flagship show, and took their revenge in dramatic style.
Triple H had teased a mystery opponent for the black-clad renegades after their anti-Authority actions of a week ago, but ended up giving them 11 - Alberto Del Rio, Jack Swagger, Bad News Barrett, Alexander Rusev, plus RybAxel, 3MB, Alexander Rusev and Fandango.
Most of that aforementioned brood dished out a severe beating to the Architect of the Shield, Rollins, but the match was rendered a no-contest when Reigns speared Ryback outside of the ring.
However, the Hounds of Justice were then floored by Triple H, Orton and Batista with the trio heading to the ring to their Evolution theme music and smacking their foes with RKOs, Batista Bombs and, finally, a Pedigree.
Orton and Batista had seemingly decided to band with The Cerebral Assassin after Ambrose, Rollins and Reigns had attacked them during their tag-team encounter with twin title holders The Usos - and Evolution and The Shield now appear to be on a collision course.
Vanquished
Elsewhere, John Cena challenged Bray Wyatt to a Steel Cage match at Extreme Rules - a dare that was swiftly accepted by the Eater of Worlds - while many of the men that bashed The Shield at Raw's culmination were also in action.
Barrett advanced into the semi-finals of the Intercontinental Championship Tournament - the winner will face current belt holder, Big E, at Extreme Rules - by beating Dolph Ziggler, but Swagger and Del Rio were vanquished by Sheamus and Rob Van Dam respectively.
RybAxel thrust themselves into the tag-team title picture by knocking off Cody Rhodes and Goldust; while Fandango and new lady friend Layla defeated Santino and Emma; and Rusev submitted Xavier Woods before battering R-Truth.
Cesaro joined Barrett, Sheamus and Rob Van Dam in the Intercontinental Championship final four courtesy of Neutralizing Mark Henry; Big Show knocked out Damien Sandow; and new Divas Champion Paige conquered Alicia Fox with the Scorpion Crosslock.
Plus, WWE paid tribute to WWE Hall of Famer The Ultimate Warrior, who passed away on April 8 at the age of 54, with a 10-bell toll and a minute's silence, followed by Superstars and fans alike chanting the legend's name.